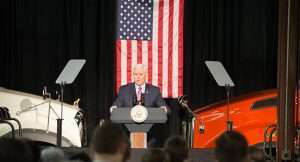 Vice President Mike Pence recently was a guest of Worldwide Equipment, which has praised the government for bringing back "hope" to the Appalachia area by "promoting pro-business policies through cutting regulations, taxes and supporting businesses like WE," according to a company announcement. Pence was joined by Secretary of Commerce Wilbur Ross, Sen. Shelley Moore Capito (R-W.V.), Rep. Evan Jenkins (R-W.V.) and Rep. David McKinley (R-W.V.)  at WE's location in White Sulphur Springs, W.V.
Because of new economic policies and the tax cut, Worldwide Equipment announced it has been able to initiate needed renovations to several locations, break ground on a facility in South Carolina and provide bonuses to all 1,100-plus employees. The company also is considering opportunities involving the purchase of an additional full-line truck dealership, expansion into new areas of South Carolina and the purchase of its first automotive dealership.
Prestonsburg, Ky.-based Worldwide Equipment is a network of heavy-duty truck dealerships, service centers and parts stores, serving brands such as Mack, Volvo, Kenworth, International and Hino. Worldwide Equipment operates more than 40 locations in Ohio, Virginia, West Virginia, South Carolina, Kentucky and Tennessee.