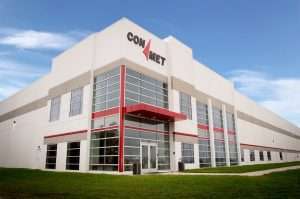 ConMet recently opened its second production facility in Monroe, N.C. The 253,000 sq. ft. facility will be dedicated to assembling wheel-end components and supporting the growing demand in the commercial vehicle industry. The new building has been designed to easily expand if additional square footage is required in the future, according to the company.
"ConMet has been a part of the Monroe community for 54 years, so when it came time to discuss adding another facility to support the growth in our industry, it was an easy decision to stay in Union County," says John Waters, ConMet's chief financial officer, vice president and general manager of metals. "We are honored to be a part of such a great community."
The opening of the facility was celebrated with a ribbon-cutting ceremony Feb. 22, 2018. The celebration was attended by community members, including Monroe Mayor Bobby Kilgore, the Union County Chamber of Commerce, the Monroe-Union County Economic Development Council and ConMet employees, many of whom have been with the company for more than 25 years.
"ConMet has been a part of the fabric of our community since 1964, providing jobs and investing in our community," says Union County Chamber President Pat Kahle. "This expansion is the result of a collaboration among ConMet, the City of Monroe, Union County, the State of North Carolina, and facilitated locally by Monroe-Union County Economic Development. What a wonderful investment not only in our community but also a statement of confidence for the future of Monroe and Union County."