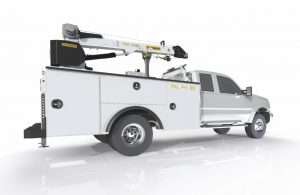 Omaha Standard Palfinger has unveiled its newest mechanics body, the PAL Pro 20. The company also announced it has entered into a co-branding relationship with Reading Truck Group.
Accommodating service cranes up to 20,000 ft. lbs. of lifting capacity, the reinforced PAL Pro 20 mechanics body is designed to maximize field performance in both on- and off-road applications. All compartment tops and raised compartments are reinforced with internal gussets, which prevent cracking and allows for mounting of welders, compressors and tool boxes, according to an announcement.
Every PAL Pro 20 body comes standard with two-piece steel doors featuring internal C-channel stiffeners, automotive adhesive bonding and 316 marine-grade stainless steel hinges. The PAL Pro 20 also features a full-length channel drip rail to divert water away from the compartment openings and three-point compression latches for improved security and sealing. To maximize storage and payload, aluminum shelving and roll-out drawers are available with four longitudinal dividers and padded floors.
The PAL Pro 20 is offered in 9 ft. and 11 ft. standard configurations, with over 30 bumper and outrigger combinations. For a complete package, PAL Pro 20 is available with Palfinger's PSC 3216, PSC 4016 and PSC 4025 service crane models and Palfinger's PRC 45V rotary screw compressor.
In other company news, Omaha Standard Palfinger has entered into a co-branding deal with Reading Truck Group, Reading, Pa. The agreement includes a range of Palfinger telescopic crane models ranging in size from 12,500 ft./lbs. to 72,000 ft./lbs. in electric and hydraulic configurations.
The cranes will be co-branded and are intended for installation on Reading Master Mechanic Series crane bodies starting in early-2018. The partnership will enable both companies to collectively expand their geographical footprints within North America and several key industry segments, according to an announcement.
Palfinger's service cranes feature low-maintenance, single-weld hexagonal booms, a patented winch damage prevention system that replaces the conventional boom tip anti-two block system, proportional wireless remote controls and an anti-corrosion e-coat paint process.
"This relationship represents a resounding vote of confidence in our crane offerings from one of the leaders in the truck body industry," says Jason Holt, Omaha Standard Palfinger president. "The investment is the result of a positive ongoing relationship with Reading Truck Group and a growing demand in the American lifting industry for the globally-recognized value that Palfinger's world-class engineering and manufacturing provide."