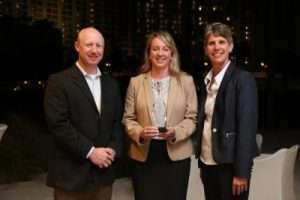 IC Bus announced Wednesday Wolfington Body Company has been named the company's North American School Bus 2017 Dealer of the Year.
"This award is the highest honor an IC Bus dealer can achieve," says Trish Reed, vice president and general manager, IC Bus. "The Dealer of the Year award recognizes the effort and dedication of all the dealership's employees, the commitment to growing their business and the recognition by customers as the dealership of choice in their market."
"This recognition is truly an honor for the Wolfington family," adds Eganne Wolfington McGowan, vice president, Wolfington Body Company. "It reflects our passion to build long-time and loyal relationships with our customers by providing them with the best school bus products and service."
Wolfington Body Company was founded in 1876 and employs more than 130 people. They are the authorized IC Bus dealer for Pennsylvania, Delaware and part of New Jersey with six facilities in its area of responsibility.
"Winning the IC Bus Dealer of the Year award is such an honor for everyone at our company," says Richard Wolfington, Jr., president, Wolfington Body Company. "This recognition validates the work of the entire Wolfington team and our commitment to deliver first-class service, sales and support to our school transportation partners."
IC Bus says its dealer of the year award focuses on distinction in dealership performance, as well as industry and community leadership. IC Bus 2017 Dealer of the Year nominees included Midwest Transit Equipment of Kankakee, Ill., Leonard Bus Sales Inc. of Deposit, N.Y., Longhorn Bus of Houston, Tex., Ward International Trucks of Mobile, Ala., Southland International Trucks, Inc. of Homewood, Ala., and Summit Group of Albuquerque, N. Mex. All the nominees have been recognized for their efforts to improve sales, customer satisfaction and community service.
"IC Bus leads the school bus industry with excellent products and the strongest dealer network," says Reed. "On behalf of everyone at IC Bus, I congratulate our top performers of 2017."