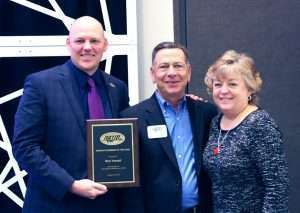 The National Association of Trailer Manufacturers (NATM) has honored Ron Yarnell, PPG OEM sales manager, with its esteemed Associate Member of the Year award.
The award was presented to Yarnell by Patrick Jennissen, NATM president, and Pam O'Toole Trusdale, NATM former executive director, at the organization's 30th annual convention and trade show last month in Fort Worth, Texas. NATM says the award is given to an individual from an associate member company who has made outstanding contributions to the association.
"Ron's passion for our mission and his commitment to our growth and success are evident in his years of dedication to and involvement with the NATM," says Jennissen. "Ron has been instrumental in guiding the organization: He has served on numerous committees, he's at all our conventions, he has spread awareness and recruited new members at trade shows, and he's on his third term as a board member. Ron's unwavering support, industry knowledge and thoughtful approach to the issues facing NATM have been an important piece of our success. I believe that because of Ron's contributions to the NATM, the NATM is a better organization."
Yarnell began his career with PPG in 1984. In 1999, PPG became a NATM member, and the following year Yarnell attended his first NATM convention. Since then, NATM says he has been a significant presence at the conventions and other key organization events. In 2010, he founded the NATM Green Award reflecting his strong position on environmental accountability. That same year he was elected to his first term on the NATM board of directors. He has also been the associate representative on the executive committee and the nominations, membership and convention committees, serving as chairman of the latter. He has also influenced the many educational programs the NATM offers, the association adds.
"It was an honor to be selected for this year's award," says Yarnell. "This award is for all the associates who have supported me with their votes. Their votes allowed me to be elected to the board of directors of NATM and to be their voice. Working together, we have made great strides in identifying and promoting the programs that are most important to our stakeholders and then raising the quality of those programs."