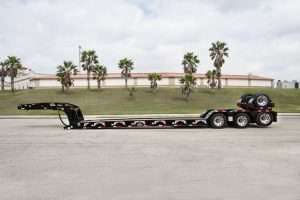 Aspen introduced this week its M5500-8 commercial trailer designed and built by the same team that brings you Aspen's heavy haul and super haul products.
The Aspen M5500-8 comes standard with 26 ft. of flush deck, swing-out outriggers, protected air lines, wide gooseneck support arm and rear frame ready for a flip fourth axle or 14 ft. 1 in. spread single axle booster.
This 55 Ton hydraulic removable gooseneck lowboy can be customized to help reduce weight and cost. Aspen customers can choose from options like a 9-hp Honda engine, bolted load bearing wheel covers, locking chain basket, air lift 3rd axle, flip fourth axle module and 14 ft. 1 in. single axle booster.
"The new Aspen M5500-8 Commercial trailer offers a 116-in. gooseneck swing, meaning you can get under the trailer with your 4 axle tractor without being punished by the extra weight and hassle of flipping an extension," said Aspen Vice President John Zork. "In keeping with Aspen's commitment to 'Haul More,' we are offering the market a 55 Ton trailer that can consistently haul its stated payload, as many times a day and as many days a year as you need it to."
The new Aspen M5500-8 features bolted load bearing wheel covers, low profile power pack installation and 116-inch gooseneck swing with 26 ft. of wide open deck and an overall length of 53 ft., the company says.