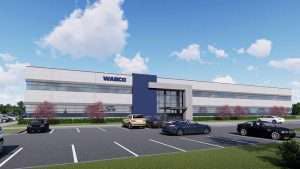 WABCO Holdings Inc. has announced it will locate its new Americas headquarters to Auburn Hills, Mich. The facility is currently under construction and is expected to open in the third quarter 2018.
The 102,000 sq.-ft. facility represents a significant investment and demonstrates WABCO's increased commitment to serve commercial vehicle manufacturers, fleet operators and aftermarket customers in North America, according to an announcement. WABCO has significantly expanded its presence in the region since its launch in 2007. Over the past two years alone, WABCO has tripled its workforce as it acquired four high-tech manufacturing businesses: MICO Inc., Laydon Composites Ltd., R.H. Sheppard Co. Inc., and the buyout of Meritor WABCO Vehicle Control Systems, the 50-50 joint venture with Meritor.
WABCO's Americas headquarters will house approximately 200 employees when it opens, including employees who are currently located at separate sites in Rochester Hills and Troy, Mich. The Company plans to increase employment prior to the opening and is forecasting to add as many as 90 professional jobs at the site during the next three years. Current job openings are posted at https://wabcotalent.loop.jobs/jobs.
"WABCO's investment in a new Americas headquarters reflects our leadership in technologies that advance the safety, efficiency and connectivity of commercial vehicles in this region," says Jon Morrison, WABCO president, Americas. "We are driving dynamic growth and expansion in North America, and this new headquarters will enable our team to anticipate and respond to customer needs even better. In addition, the new office will now co-locate our talented teams, fostering seamless collaboration as we advance innovations to enable autonomous driving in the commercial vehicle industry."
In addition to office space on two floors, the premises at 1220 Pacific Drive will feature a Customer Experience Center, a vehicle test lab, training center and other amenities.
"We are thrilled to welcome WABCO to Auburn Hills," says Auburn Hills Mayor Kevin McDaniel. "It will be a point of pride for this community to be home to a company that is known worldwide for its innovation and technology leadership. WABCO's presence here will strengthen and enhance our community for years to come."
In addition to acquisitions, WABCO's recent growth in North America includes the March 2017 opening of a new manufacturing facility in Charleston, S.C. For the first time in the company's history, WABCO has localized the production of its most advanced air disc brakes (ADB) for commercial vehicles in the United States. WABCO invested $20 million in the new facility to meet increasing customer demand for its industry-leading ADB, energy-efficient air compressors and related safety systems. In moving from its Charleston location to this new facility, the company expanded its manufacturing footprint by more than 60 percent and increased on site employment to approximately 230 individuals.
WABCO's workforce in the Americas is comprised of more than 1,800 team members at 11 locations, including 10 in North America: Rochester Hills and Troy, Mich.; Charleston, S.C.; Hebron, Ky.; North Mankato, Minn.; Hanover, Penn.; Wytheville, Va.; Oakville, Ontario, Canada; as well as Empalme, Sonora and San Luis Potosi, Mexico The company also operates a manufacturing site in Campinas S.P., Brazil. These sites develop, manufacture, localize and support a broad portfolio of WABCO products and systems, including its wheel-end solutions and advanced driver assistance systems (ADAS), including collision mitigation, electronic stability and active steering control systems. WABCO America's also offers vehicle manufacturers and fleet operators transmission automation control systems and a full range of aerodynamic and air management solutions.