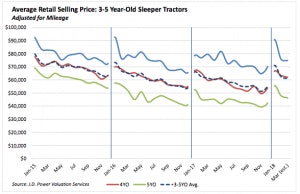 While auction data showed prices slightly above expectations, the medium- and heavy-duty retail used truck markets stumbled in February as volume numbers increased, J.D. Power writes in its April Commercial Truck Guidelines market report.
Within the auction space, J.D. Power states volume was at "the lower end of expectations last month. Smaller auction houses moved notably more iron than in previous months, suggesting sellers are looking for additional outlets for equipment."
J.D. Power's benchmark model for March shows model year (MY) 2014 tractors averaging $35,250, $1,750 (4.7 percent) lower than February; MY 2013 averaging $31,250, $57 (0.2 percent) higher than February; MY 2012 averaging $27,000, $478 (1.8 percent) higher than February; MY 2011 averaging $20,750, $3,383 (14.0 percent) lower than February. On a year-over-year basis, J.D. Power states four- to six-year-old trucks in the first quarter sold for 19 percent more than the same period last year.
"Year-over-year gains are encouraging, but the returning supply of late-model trucks expected throughout the year should keep depreciation near our 2 percent per month estimate," J.D. Power writes.
In the Class 8 retail sleeper market, February's pricing was down substantially from the previous month. As predicted, a greater volume of late-model trucks is impacting pricing, J.D. Power states, with some dealers selling multi-unit packages at aggressive retail prices.
J.D. Power states the average retail tractor sold in February was 74 months old, had 458,975 miles, and brought $48,579. Compared to January, this average sleeper was identical in age, had 278 more miles and brought $2,675 (5.2 percent) less money. Compared to the same truck last February, J.D. Power states this average tractor was two months older, had 8,989 more miles and brought $1,230 (2.5 percent) more money.
Looking specifically at three- to five-year-old trucks, J.D. Power states average prices last month were as follows:
MY 2016: $75,893, $14,752 lower (16.3 percent) than January
MY 2015: $63,419, $3,184 lower (4.8 percent) than January
MY 2014: $47,992, $7,573 lower (13.6 percent) than January
Comparing to 2017, J.D. Power states late-model Class 8 sleepers sold in the first two months of 2018 brought 3.9 percent more than the same period in 2017.
The company also writes, "February's data showed some dealers are willing to accept aggressively low prices to move multiple similar units. This activity will drive depreciation going forward."
On a per-model basis, J.D. Power states International ProStar pricing continues to trend upward, and closer to industry averages. The company attributes this to a greater number of new trucks sold and better performance of N13-powered units. Class 8 sales per rooftop also trended up toward 5.0 trucks per dealership last month. J.D. Power adds that it expects "average volume to increase toward 5.5 trucks per rooftop in the coming months as the weather factor goes away and buyers invest in an improving economy."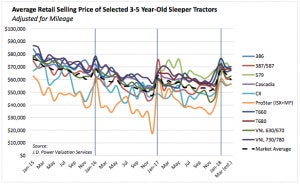 Additionally, thanks to record order numbers in the new truck space, J.D. Power states 2018 "should see an elevated volume of deliveries. Fleets are taking advantage of tax breaks, and incentives, and appear optimistic about economic conditions in 2018.
"Also, it is possible buyers want to lock in guaranteed residuals before depreciation further devalues trade-ins later in the year."
In the medium-duty space, January's strength gave way to weakness in February. With Class 3-4 cabovers, J.D. Power states February's average tractor sold for $14,194, which was $4,878 lower (25.1 percent) than last month and $7,535 lower (34.1 percent) than February 2017. Volume was up in that space as well as the Class 4 and 6 markets, where J.D. Power states Class 4's averaged $20,290 in February, $3,234 lower (13.7 percent) than January. Class 6 tractors averaged $20,057 during February, down $4,255 (17.5 percent) from last month.
"The primary factor behind the lower Class 6 pricing appears to be much higher volume," J.D. Power reports. "This segment can be impacted by rental fleets liquidating equipment, and it appears February was one of those months."
Overall, J.D. Power states that trends in the auction channel are typically followed in the retail channel, which offers mild optimism for future months. "Retail depreciation may be at the lower end of expectations once complete March retail data is collected," the company says. "Our outlook remains unchanged, though, with 2 percent per month depreciation predicted."
For more information, and to read the entirety of this month's report, please CLICK HERE.