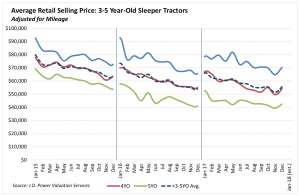 After oversupply shook the used truck market in November, prices in the market responded back with a large jump upward December, J.D. Power reports this week in its Commercial Truck Guidelines market update report.
Within the wholesale/auction market, J.D. Power states January saw typically slow volumes, which limited the company's ability to draw any major conclusions from pricing shifts. The data that was released last month showed prices slightly higher, but J.D. Power says it will wait until next month to draw any conclusions from the shift.
Using its benchmark model, J.D. Power says model year (MY) 2013 tractors averaged $31,700, $2,950 (10.3 percent) higher than last month; MY 2012 tractors averaged $26,500, $900 (3.5 percent) higher than last month; MY 2011 tractors averaged $16,750, $6,250 (27.2 percent) lower than last month. Overall, the three model years were 17.1 percent ahead of last year, a total J.D. Power states dealers should not "read too much into" until more data is available next month.
The retail market showed higher volume rates and prices in December, which J.D. Power says indicates the "late-year [2017] dip was not the start of a trend."
J.D. Power states the average sleeper tractor retailed in December was 78 months old, had 432,888 miles and brought $46,918. Compared to the prior month, the company says that average tractor was one month older, had 28,323 (6.1 percent) fewer miles and brought $593 (1.2 percent) more money. Compared to the same period in 2016, the tractor was six months older, had 31,419 (6.8 percent) fewer miles and brought $1,913 (3.9 percent) less money.  This tracks with J.D. Power data that shows the retail sleeper market averaged 7.1 percent lower pricing in 2017 compared to 2016.
However, among the industry's most popular three- to five-year-old cohort, J.D. Power states retail selling prices dropped an average of "1.7 percent per month in 2017. This figure is significantly better than the 2.3 percent in 2016," but the company adds "on a year-over-year basis, these same models sold for 4.7 percent less than in 2016."
Within that cohort, J.D. Power states average prices last month were as follows:
3-year-old trucks: $70,282, $5,547 higher (8.6 percent) than November
4-year-old trucks: $53,991, $4,448 higher (9.0 percent) than November
5-year-old trucks: $42,353, $3,013 higher (7.7 percent) than November
J.D. Power also states there was "little to no competitive movement in December" amongst vehicle models.
Regarding Class 8 sales per rooftop, J.D. Power says numbers dipped from 4.9 to 4.7 units month-over-month, but that overall dealership sales volume was up roughly 8 percent for the year. "That gain represents roughly five additional used trucks sold per rooftop in 2017," J.D. Power says.
The company also announces it has updated its long-term value forecasts starting with the 2020 timeframe to properly address January's "very impressive new truck order figures" and the likelihood increased deliveries will bulge trade-in totals.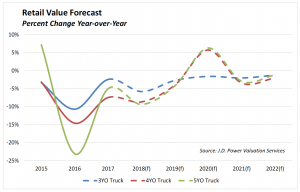 Finally, J.D Power says Class 3-4 cabover prices and volume were steady last month, while the Class 4 and Class 6 conventional market saw increased prices and, in the Class 6 market, noticeable volume gains.
The average Class 3-4 cabover sold in December earned $15,059, $28 (0.1 percent) higher than November and $864 (6.1 percent) higher than December 2016. Class 4 conventional trucks averaged $19,606, which was $1,733 (9.9 percent) higher than November and $898 (4.8 percent) higher than December 2016. Class 6 conventional models averaged $18,690, which was $4,215 (29.1 percent) higher than November and $2,902 (18.4 percent) better than December 2016.
In forecasting the rest of the year, J.D. Power states tax breaks, OEM incentives, a need to modernize equipment and general economic optimism as factors in its decision to keep depreciation estimates at 2 percent per month in 2018.  "The predicted increase in used truck supply should counteract economic improvements to an extent."
For more information, and to read the entirety of this month's report, please CLICK HERE.