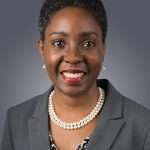 Americas Commercial Transportation (ACT) Research Co. LLC, has appointed Funmi Ige-Wright research director. She will help provide ACT customers with an understanding of how current and future technologies will shape the truck and transportation market, according to the company.
"We are pleased to welcome Funmi to ACT Research," says Kenny Vieth, president and senior analyst, ACT Research. "Having worked with her over the past decade, we know the strong analytical skills she brings to the job."
Funmi joined ACT in October 2017, after an almost 20-year career at Cummins Inc., ranging in experience from design engineering, quality and product reliability, product management and sales and marketing to truck market analysis and forecasting. She spent at least nine years forecasting and analyzing global truck markets, especially the Brazilian, Chinese and North American truck markets.
"It is both refreshing and humbling to be in the midst of very talented people with a healthy dose of openness to ideas," said Ige-Wright says. "The free exchange of ideas lends itself to a level of creativity that is to be admired. Being able to see how trends across the economy impact different parts of the industry are always a thrill."