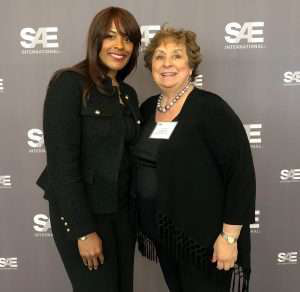 Leslie Kilgore, vice president of engineering for Thomas Built Buses, was honored with the prestigious Rodica Baranescu Award for Technical and Leadership Excellence in Automotive Engineering by SAE International (formerly the Society of Automotive Engineers). The award was presented April 10. Only three women are honored with this award every year, one from each sector: aerospace, automotive and commercial vehicles. Kilgore received the award for the automotive sector.
The Rodica Baranescu Award honors and celebrates the successes of women in the engineering profession and their contributions as leaders and technicians in the commercial engineering sector.
"This distinction comes as no surprise to those of us who work with Leslie on a daily basis," says Caley Edgerly, president and CEO of Thomas Built Buses. "Her tireless dedication to making smarter, safer and more efficient school buses and to bettering the community can be felt far beyond the Thomas Built doors. Her efforts have been very intentional in developing others and herself to be their best. Leslie's leadership with her team and co-workers has consisted of challenging the status quo, healthy debate and a strong will for her team to make a true difference in the pupil transportation industry with improved product features, enhanced safety and authentic relationships. We are thrilled to have her at Thomas Built Buses and invite everyone to join us in congratulating her on this award."
Kilgore, who joined Thomas Built Buses in late 2016, has already made a contribution at Thomas Built Buses. One of her most notable accomplishment to date has been leading the development of Jouley, Thomas Built's first Saf-T-Liner C2 electric school bus. She also is working on new innovations under the BusWise Technologies umbrella, which will make school buses safer, easier to maintain and more efficient in the very near future.
"I am honored to be awarded the Rodica Baranescu award and to now be a part of such an elite group of female engineers," says Leslie Kilgore, vice president of engineering for Thomas Built Buses. "It's been a pure joy to lead to the Thomas Built engineering team as we develop some of the most cutting-edge technologies for the school bus industry. I look forward to continuing the legacy of leadership with Thomas Built Buses and being an inspiration to women in engineering both now and for those to come."