The North American Council for Freight Efficiency (NACFE) has released its 2018 Annual Fleet Fuel Study, which, among other findings, tracks the fuel efficiency of 20 fleets operating nearly 72,000 Class 8 tractors and more than 236,000 trailers.
By using various fuel-saving technologies, the study determined that those fleets saved more than $600 million in 2017 compared with average trucks on the road and averaged 7.28 mpg compared with U.S. fleet average of 5.91 mpg. Furthermore, participating fleets' mpg in 2017 increased 2 percent from the previous year's data.
An increasing number of fleets are implementing various fuel-saving technologies that fall into such categories as tractor aerodynamics, trailer aerodynamics, powertrains, tires and wheels, idle reduction and chassis. "Manufacturers are bringing them … and the fleets are buying more of these technologies," Mike Roeth, NACFE executive director, said during a conference call Tuesday.
The study analyzed the overall adoption rate of 85 currently available fuel-saving technologies and it determined that the adoption rate in 2017 was 44 percent compared with 17 percent in 2003. One caveat: Not all technologies can be applied to a single tractor-trailer. For example, a truck would not have a diesel auxiliary power unit and a battery HVAC system. The maximum adoption by a fleet would be around 65 percent, depending on the set of technology combinations, according to the study.
Of particular interest to dealerships is NACFE's tracking of the increasing adoption rate by the participating fleets as well as what they want on their trucks. Some fleets "became very committed to specifying these technologies on their new equipment" according to the report.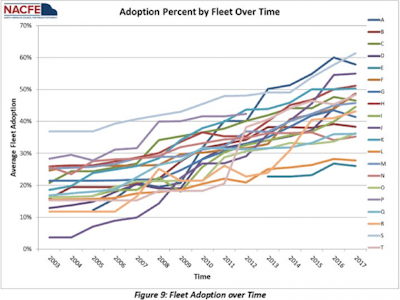 The figure above illustrates the rate at which fleets are increasing their adoption over the years. (Fleets are identified as A through T because of privacy agreements.)
In addition to tracking general adoption rates by fleet, the study also includes 2017 adoption rates by product and a year-over-year comparison. Topping the list is cab extenders with a 90 percent adoption rate and lower viscosity engine oils at 87 percent. Though trailer solar panels had a 9 percent adoption rate in 2017, its year-over-year increase was 1,177 percent.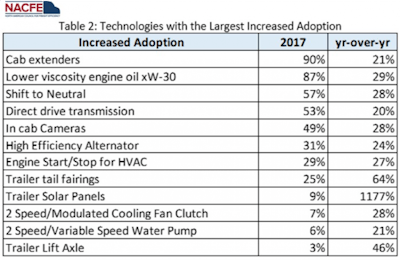 As fleets continue to look at fuel efficiency as an effective way to improve their bottom line, dealerships should be boning up on all of the available fuel-saving technologies. These are what their customers will be asking for when spec'ing trucks. And if they don't, dealers should have the ready knowledge to be able to suggest the many ways they can save money on fuel costs.
To read the entire report, CLICK HERE.