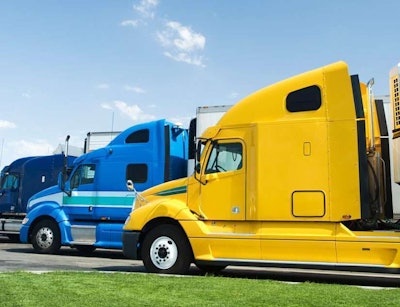 What does a customer see upon entering your property for the first time? You might be surprised at how minor adjustments to lot configuration and the appearance of equipment can help increase your sales.
Prospective customers should have to pass through your inventory to reach your front door. This can be done by forcing a few simple turns or creating a long corridor flanked by vehicles.
Don't create an elaborate maze but ensure that prospects do not enter your building without noticing your quality vehicles. This prepares the customer to be receptive to your approach of selling value versus price, says George Papp, professional sales consultant and trainer for the Used Truck Association's (UTA) "Selling for Success" training seminars.
Trucks destined for premium lot placement should be detailed and expertly reconditioned, allowing them to become a value talking point.
"If you're dealing with a guy who is buying one or two trucks, he probably wants to get in it and put it to work immediately," Papp says.
Another display option is to promote groups of sister trucks on the front line, and have other, similar units not on display that can be sold as-is, Papp says. These trucks sell well with educated buyers, such as fleet owners who have their own shop capable of reconditioning.
Once a truck is made front-line ready, it shouldn't be forgotten.
"If you have a truck on your lot and prospects are walking around it, nine times out of 10 there is a visual problem," Papp says. "It could be rust, broken glass, rusty frames, dents, dings and or it smells like someone died in it."
Also, all vehicles that sit for extended periods of time are susceptible to issues. You want to ensure that performance doesn't suffer when a prospect gets to the point of testing.
"Having sales consultants walking the lot daily pays off in spades — they know every truck and how to present it properly to a willing prospect," Papp says.
You can give your customers additional peace of mind when buying used by providing them with documentation that shows the truck's background. Services such as RigDig Truck History Reports (a sister company of Successful Dealer) let you provide customers with in-depth information about a truck's operating history. Other providers, such as CarFax and BigRigVin, offer similar services.
"By meshing a variety of data sources that track junk and salvage vehicles, total loss insurance claims, title and odometer brands, accidents, inspections, ownership, cargo hauled and CSA scores, RigDig helps dealers give truck buyers a level of confidence in making purchase decisions that's unprecedented," says Prescott Shibles, senior vice president at Randall Reilly, owner of RigDig and publisher of Successful Dealer. You can even display signs that say: "RigDig Certified Dealer" to show your customers the investment you've made in selling them quality used trucks.
In an industry where too many sales people are content to simply recite a truck advertisement to a customer requesting more information, genuine research and original observations stand out.
"Envision yourself going to a store to buy a product and the sales associate knows nothing about it nor do they ask any questions of why or how you plan on using this intended purchase," Papp says. "Is this who you want to purchase from? Or would you prefer to have a consultative approach in making your purchase?"
Some customers know exactly what they want when they hit your lot, says Craig Kendall, president of the UTA and specialty markets manager for The Pete Store. But in some cases, they need your help. "Just because customer wants truck X is that really what they need?" he asks. "Let's don't sell them a Class 8 if they need a medium duty."
Matching the right truck to each customer helps them be successful and can avoid problems down the line, Kendall says. "Repos ultimately are bad for our business," he says. "In an ideal world, we'd have none."
Yet even with thorough restoration, good placement and a knowledgeable sales staff, not every used truck is destined for a quick sale. In such cases, be willing to explore alternatives.
"Be smart. Network it, wholesale it, move it off your lot," Papp says. "It's just costing you inventory dollars to hold it, while dreaming that you might break even."