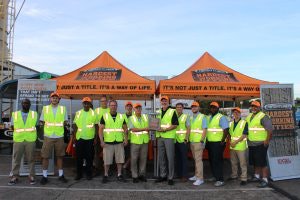 Charlotte, N.C., has been selected to receive the "Freightliner Trucks Hardest Working Cities" award, which recognizes cities fueling economic growth and job creation in the U.S. and Canada, according to an announcement.
A formal award presentation will be held Friday, Nov. 9, at 11:30 a.m. EST, at zMAX Dragway. The recognition program was originally scheduled to honor Charlotte in September, but because of Hurricane Florence the presentation was rescheduled.
In addition to the award presentation, which includes a vocational ride and drive on a custom urban track, Freightliner will deliver food and gifts to job sites around the city to thank workers for their contributions.
Work site visits will include the City of Charlotte Department of Transportation, where hundreds of men and women work daily to keep roads safe in the Charlotte area, and K&S Sanitation Service, a refuse collection company serving Charlotte since 1986. Prior to Hurricane Florence, Freightliner visited The Building Center, a regional lumber and building products dealer, to honor their hard work in helping keep the Charlotte region going strong, the company says.