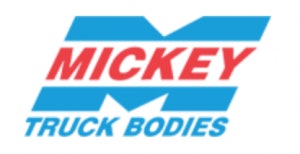 Mickey Truck Bodies (MTB) has announced a major transition within its leadership team that will take effect Jan. 1, 2019.
Dean Sink, currently chairman, president and CEO of MTB and Mickey Ventures & Holdings (MV&H), will become executive chairman of both companies.
Mike Tucker, currently executive vice president of strategic growth and business development for MTB, will succeed Dean as president and CEO of MTB. This marks the first time in the company's 114-year history that a non-Mickey family member will be responsible for all day-to-day operations of MTB, including manufacturing, sales, marketing, engineering, IT, HR and finance, according to the company.
Carl Mickey Jr., currently senior executive vice president for MTB, will become chairman of both MTB and MV&H.
Matt Sink, currently vice president and director of corporate operations for MTB, will become executive vice president of MTB and MV&H. He will retain responsibility for MTB's safety and quality programs — the company's top two priorities — and in that capacity will report directly to Tucker. He also will ensure that Mickey represents its strong family values and culture within the communities and industries it serves.
Greg Fisher, currently senior executive vice president for MV&H, will become president and CEO of that company. He has been with MTB for 24 years, serving in key finance and operations positions during one of the most prolific growth periods in the history of the company.
In his new role Dean Sink will focus more strategically on growth and diversification outside of Mickey's core business, which is manufacturing delivery equipment and specially-engineered vehicles for industries such as food and beverage, vending, battery, oil and natural gas, data storage, propane, medical and rescue, moving and storage and furniture. He will work closely with the rest of the new MV&H team (Matt Sink, Carl Mickey, Greg Fisher and Noel DiBona, vice president of innovation) to identify solid opportunities, both organic and via acquisition, that will ensure the growth of MTB while preserving the values of this privately-owned, family-owned business.
Tucker joined Mickey in January 2018 in his current role to work with its team leaders and senior management in driving the company's ambitious objectives for growth, performance, operational and financial targets, the company says. Prior to Mickey he was president and CEO of VT Hackney Inc., and a 26-year veteran of that company.
"Mike has the proven leadership skills within our core business and, since joining Mickey, he has earned the respect and support of all our operations teams," says Sink. "His vision, experience and energy make him the ideal person to oversee the entire day-to-day operation of Mickey Truck Bodies. I expect a very smooth transition and have total confidence that Mike will keep us moving in a very positive direction."