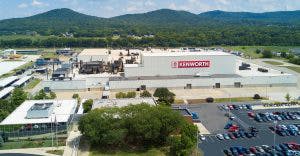 The Kenworth-Chillicothe manufacturing plant recently received the 2018 Encouraging Environmental Excellence "E3" Gold Award from the Ohio Environmental Protection Agency. The award recognizes businesses, nonprofits and government agencies in Ohio that demonstrate commitment to exceed regulatory compliance and attain exceptional achievements in environmental stewardship, according to an announcement.
Kenworth-Chillicothe was one of 12 organizations in Ohio that received either platinum, gold or silver award recognition, and one of only five organizations to achieve the Gold Award this year.
"This recognition was achieved through the dedicated efforts of our employees who pursue and achieve outstanding levels of environmental excellence and sustainability every day," says Rod Spencer, Kenworth-Chillicothe plant manager.
The plant was recognized for reducing its annual hazardous waste footprint by more than 2.7 million pounds and reclaiming approximately 70 percent, or 3.1 million pounds, of its waste solvent stream. In addition, year to date, Kenworth-Chillicothe has diverted more than 3 million pounds of waste into energy generation in lieu of landfill disposal as part of its Zero Waste to Landfill program. Since its commencement in March 2016, the program has enabled the plant to save over 443,000 cubic feet of landfill space.
The Kenworth-Chillicothe plant's environmental efforts include participation in an American Electric Power Ohio program that produced savings of more than 2.8 million kilowatt hours at the plant over the past 12-month rolling period compared with the same period in 2017.
The plant saved 1.52 million gallons of potable water through a project that re-purposed waste water for use as a concrete ingredient in the construction of a 400,000 sq.-ft. truck staging lot. Tank and pond systems used to collect rain and snow melt serve as an alternative source to city water for applications such as a dust suppressant on gravel roads and parking areas and a back-up water supply for the plant's fire suppression system. Since the start of 2017, Kenworth-Chillicothe has eliminated more than 28.8 million pounds of volatile organic compound emissions from the atmosphere via on-site thermal destruction.
Kenworth-Chillicothe also reuses various plastic and metal drums, repurposed from raw material products used in the truck manufacturing process, to contain waste materials. The plant also donates off-specification sleeper mattresses to multiple homeless shelter organizations and contributes truck rail bracing wood to other community assistance organizations for use as firewood.
Kenworth's heavy-duty manufacturing plants in Chillicothe, Ohio, and Renton, Wash., have both earned ISO 14001:2015 certification for their environmental management systems, which support the production of trucks in an environmentally responsible manner. Kenworth medium-duty trucks are produced at the Paccar Ste-Thérèse, Quebec, manufacturing facility, which also has achieved ISO 14001:2015 status, according to the company.