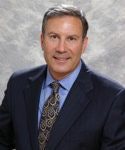 The Board of Directors of the Motor & Equipment Manufacturers Association (MEMA) presented President and CEO Steve Handschuh with the association's highest honor, the MEMA Triangle Award, on Nov. 28, 2018. Handschuh is retiring as MEMA's top executive Dec. 31, 2018, according to an announcement.
"Steve's leadership, his vision and his passion for our association and the industry truly exemplify the MEMA Triangle Award's mission of honoring selfless contributions to the motor vehicle supplier industry," says Daniel E. Sceli, chairman of the MEMA Board of Directors and CEO of Peterson American Corporation.
"While we will miss Steve's guidance at MEMA, we are proud to add his name to the list of industry legends who have received the MEMA Triangle Award," Sceli adds.
Handschuh joined MEMA in 2006 as the president and chief operating officer of the Automotive Aftermarket Suppliers Association (AASA), MEMA's light vehicle aftermarket division, and was appointed president and chief executive officer of MEMA in October 2013. In that position, Handschuh led MEMA and its four divisions: AASA, the Heavy Duty Manufacturers Association (HDMA), MERA – The Association for Sustainable Manufacturing and the Original Equipment Suppliers Association (OESA).
Much of Handschuh's 40-year career was dedicated to the automotive aftermarket industry. He worked for NAPA Auto Parts/Genuine Parts Co. for 18 years, including serving as NAPA president from 1998-2004. He also served as senior vice president, commercial, at AutoZone. Handschuh began his career as an outside salesman for Mighty Auto Parts where he rose to vice president, sales and marketing.
The Triangle Award has been presented by MEMA and its divisions since 1974. It is awarded periodically to that person, persons or organization whom the membership of MEMA and its divisions choose to honor for their contributions to the supplier industry, MEMA says.