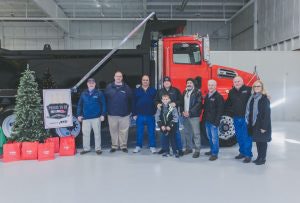 ATG-Tri State Truck Center Inc., part of the Advantage Truck Group (ATG) of heavy-duty truck dealerships that specialize in Freightliner and Western Star brands, recently led its annual Haulin' 4 Hunger volunteer event, an initiative that over the past six years has provided nearly 13,000 fresh meals to Central Massachusetts residents who lack consistent access to enough food.
Held Dec. 19, 2019, ATG-Tri State Truck Center and its Haulin' 4 Hunger team of business sponsors led the delivery of more than 2,800 fresh meals to six food pantries.
ATG-Tri State Truck Center started Haulin' 4 Hunger in 2012 to help combat local hunger, an issue that impacts millions of people in the United States and one in ten Massachusetts residents. Today, the event has grown to include the support of nine businesses and has created a community of giving within the trucking industry.
"Rather than gifting customers with a holiday basket, we created a program – with the support of our customers – to give their gift to someone else," says Kevin G. Holmes, president and CEO, ATG. "This simple idea has resulted in six years of giving, and with the help of our customers, employees and sponsors we have been able to expand our reach within the community and increase the number of fresh meals we provide to those in need."
The Haulin' 4 Hunger initiative is supported by employees and customers of ATG-Tri State Truck Center and other ATG locations, and nine business sponsors: Al's Oil, Dennis K. Burke, Inc., Flynn's Truck Plaza, JW Consultants, McDevitt Trucks, Inc., Promotional Solutions, Inc., Regency Transportation, Inc., SelecTrucks of New England and Ted's of Fayville, Inc.  The Haulin' 4 Hunger team worked with BJ's of Northborough to coordinate all of the food and received a $500 BJ's gift card as a donation.
The Haulin' 4 Hunger event also brings together a team of ATG employees and business sponsors who will hand-deliver fresh meals of hams and turkeys, along with assorted fixings, to six local food pantries in Worcester County: Abby's House, Jeremiah's Inn, South Worcester Neighborhood Center, St. Anne's Food Pantry, St. John's Food for the Poor Program and Veterans Inc.
ATG employees and sponsors were joined by Massachusetts Senator Michael Moore, along with Worcester Chamber of Commerce President and CEO Tim Murray and vice president of operations Karen Pelletier.