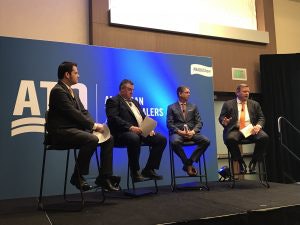 End users took center stage, literally, Thursday at the 2019 American Truck Dealers (ATD) Show in San Francisco.
In a roundtable panel discussion moderated by Transport Topics' Seth Clevenger, a trio of fleet executives described their current fleet-to-dealer relationships and what they look for when finding a dealership with which to partner.
Though Thursday's fleet panelists — Jim Aartman, COO, California Freight; Randy Guillot, president, Triple G Express/Southeastern Motor Freight; and Harold Sumerford, Jr., chairman and CEO, J&M Trucking — each operate distinct operations, they were in agreement that their primary expectation from any dealer is commitment. Carriers don't want suppliers or vendors, they want partners. Dealers who understand the ins and outs of their business and are willing to do whatever is necessary to keep their vehicles on the road. Uptime drives today's trucks. Fleets say they won't tolerate a dealer who fails to understand that.
"I want to know your business and want you to know my business," says Guillot. "I want to know what to expect from you and know what you can and cannot provide."
Aartman says any dealer evaluation he does starts "first and foremost" with reputation. "If I'm plugging away a few million bucks on your equipment, I'd like to go to a modern facility."
He adds, "Anybody could sell a truck. It's about keeping it on the road."
The fleet trio also spoke adamantly about the importance of communication, both from the service department and the sales floor.
Sumerford says good news or bad, "bring it quick," so his team can initiate contingency plans and get drivers and loads back on the road as fast as possible.
Guillot says business-to-business technology could help dealers in this area. He says his company's management software enables it to send automatic status updates to shipping customers every time their loads are picked up or delivered. He says customers can choose to opt out (or enhance) their update settings, but once they choose what they want to know, the system emails them immediately whenever a status change occurs.
Guillot questions why similar systems aren't found in the dealer channel. "Why can't the dealers do that?"
As for the show floor, Sumerford also says he expects his dealer representative to consider his business, routes and duty cycles before sitting down with him to place a new order. He says he doesn't want to be sold on a fuel efficiency product if it's not going to positively impact his total cost of ownership (TCO).
Thursday's fleet panelists had other recommendations for the dealer channel, too. Sumerford says he'd love it if every dealer he relies on featured an online portal his people could use to more efficiently order parts.
"We don't want to call and waste two people's time," he says.
Aartman's suggestion goes back to the service bay. He says he'd love to see express and rapid diagnostics bays standard throughout the channel. "At least then we'd know" if the truck could be repaired quickly or out of service for a while, he says.