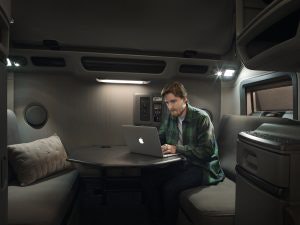 Volvo Trucks has added an ergonomically advanced workstation to its VNL 760, 740 and VNX 740 models, providing a flexible living environment for thousands of drivers who make their homes on the road. Designed to improve driver productivity, comfort and overall convenience, the upgrade is now available for order, the company says.
"This advanced workstation is the latest example of the emphasis Volvo Trucks has placed on enhancing driver comfort and driver productivity," says Allison Athey, product marketing manager at Volvo Trucks North America. "The ability to create an exceptional all-in-one living space and working environment is essential to attracting and keeping drivers."
This workstation was developed as a result of testing and input from Volvo customers and drivers. It features ergonomic advancements that allow drivers to enjoy the comforts of home while on the road, Volvo says. The workstation transforms from a sitting area and table for relaxing, eating and catching up on work, then lowers as a base for seating cushions that unfold into a bed. Additional enhancements include an angled table for easy seating, a 103-degree cushion seat angle to improve seating comfort and connected cushions that can be easily secured to allow for rest.
The workstation is a prominent feature in the cab, giving drivers flexibility to personalize their living space while on the road. With various configuration possibilities, solo drivers may prefer to leave the table set-up and sleep in the top bunk, while team drivers may choose to collapse the table for access to both bunk beds. The workstation also allows space for storage inside the bottom bunk bases, the company says.
Previously successful on the VNL 670 model, the enhanced workstation for the VNL 760, 740 and VNX 740 models entered production in February 2019, Volvo says.