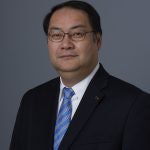 Hino Trucks has appointed Shigehiro Matsuoka president and CEO of Hino North America. Matsuoka succeeds Yoshinori Noguchi, who remained as an executive advisor through March to ensure a smooth transition.
Under Noguchi's leadership for the past six years, Hino has had six consecutive record years of truck and parts sales, grew its dealer base by nearly 20 percent, launched its Connected Vehicle Strategy and Certified Ultimate dealer program, built a state-of-the-art corporate office in Novi, Mich., and purchased a new manufacturing facility in Mineral Wells, W.Va.
"On behalf of the entire dealer network, we would like to thank Mr. Noguchi for his leadership and action over the past six years," says Tim Matheny, president, Matheny Motors and chairman of Hino Trucks' National Dealer Advisory Council. "Through his efforts, Hino has grown to become the most valued franchise in the industry and is now poised for even greater growth with its expanded product offering and dealer base."
Matsuoka joined Hino in 1981 and has held various overseas assignments in his 38-year career with Hino. Most recently, he was responsible for total support strategy and technical solutions, aftersales service, parts operations and global production and parts logistics divisions for Hino Motors Limited.
"This is an important time of transformation for Hino as we expand into the Class 8 market, advance our connected vehicle strategy, elevate customer ownership experience and build on Hino's presence in the U.S. market," says Matsuoka. "I am honored to have this opportunity to lead the Hino Trucks team and further strengthen our commitment to continuous improvement and widen our range of product offerings."
An initial focus for Matsuoka is the launch execution of the new Class 7 and 8 A09 powered Hino XL7 and XL8 series trucks — first introduced in Spring 2018 — nearly ready to enter mass production at Hino Trucks newly acquired million square-foot state-of-the-art facility in Mineral Wells.