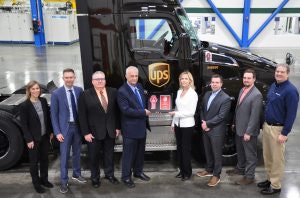 Paccar announced this week the 200,000th Paccar MX engine it produced for the North American market at its Columbus, Miss., plant has entered the industry with UPS.
The milestone engine was presented to the fleet during a special presentation at the facility. Paccar says the 200,000th engine is a MX-13 rated at 455 hp and 1,650 lb.-ft. of torque that resides in a new, fuel-efficient Kenworth T680 day cab going into service in UPS regional haul operations.
"It was fitting to recognize UPS with the 200,000th Paccar MX series engine. We have established an excellent collaboration with UPS over the years, aided by the strong support of MHC Kenworth – Atlanta and the Paccar Columbus engine plant," says Mike Dozier, Kenworth general manager, Paccar vice president. "Paccar MX engines are known for outstanding fuel efficiency, exceptional reliability and durability, low ownership cost, high horsepower and torque ratings, and quiet operation. These important attributes provide tangible benefits to UPS and all our customers operating Paccar MX engines."
"We appreciate the selection of UPS to receive the milestone 200,000th Paccar MX engine for installation in our newest Kenworth T680. Our Kenworth T680s equipped with PACCAR MX engines are performing well in UPS operations throughout the United States," adds Bill Brentar, UPS senior director of maintenance and engineering for transportation equipment at the company's headquarters in Atlanta, Ga. "UPS maintains a productive working relationship with Kenworth and MHC Kenworth – Atlanta, and we look forward to our continued mutual success."
During the special ceremony, Kevin Baney, Kenworth assistant general manager for sales and marketing, presented a special commemorative plaque to Brentar and Mark Collins, UPS director of maintenance and engineering for transportation equipment. Also participating were MHC Kenworth's Eddie Davis, and Katie Guest, new truck sales, MHC Kenworth – Atlanta; Lance Walters, plant manager for the Paccar Engine Plant in Columbus, Miss.; Kathie Falcone, Kenworth director of sales operations; and Andy Manos, Kenworth national fleet service manager.
UPS purchased its first Kenworth trucks with Paccar MX engines from MHC Kenworth – Atlanta in 2012. Today, UPS operates more than 3,000 Kenworth T680s with the Paccar MX-13 engine.
"Our collaboration with UPS is very important. UPS further optimized the Paccar MX-13 engine's benefits by also making the Paccar 12-speed automated transmission standard for its T680s, beginning with last year's 700-truck order of Kenworth's on-highway flagship," says Davis, MHC Kenworth vice president.