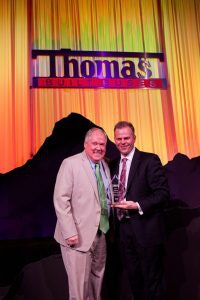 Sonny Merryman has once again achieved President's Club Platinum status, joining the ranks of the most elite Thomas Built Buses dealers in the United States and Canada.
The news was announced at the recent Thomas Built Buses Dealer Meeting.
In addition to its Club Platinum status, Sonny Merryman also was awarded the Midwest Region Dealer of the Year distinction for its exceptional commitment to customer support, landing the company among the top five dealers in the entire Thomas Built Buses network. This is the second consecutive year Sonny Merryman has been recognized as one of the top five dealers.
In other categories, the Sonny Merryman parts team achieved Gold level status, the highest ranking possible, for the fourth consecutive year. Deputy Parts Manager Chad Waller accepted the award on behalf of the Sonny Merryman parts team. Sonny Merryman operates four locations with parts distribution throughout the state and employs five outside parts sales representatives and more than 10 parts analysts.
Finally, out of more than 60 trainers throughout North America, Daniel Droog, Sonny Merryman Trainer, was named the 2018 Trainer of the Year, the greatest level of distinction for a Thomas Trainer. This is the second time Droog has been awarded this top honor since he became the Sonny Merryman Trainer in 2014. Droog offers training to technicians and drivers all across Virginia both on-site and at customer locations, the company says.