A bright spot in the technician shortage is that more and more job seekers are realizing that becoming a diesel technician offers a stable career with good pay. No longer are admission offices filled only with fresh-faced high school graduates looking to enter the working world. An increasing number of enrollees are entering diesel programs with a degree already in-hand – or experience in other fields – and looking to change careers.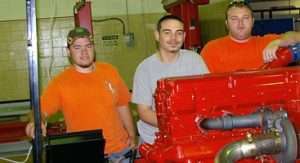 "We've had some folks that went through four years of traditional college and then decided that they are not as employable as they want to be, or they're following their love – a passion – in diesel technology," says Jerry Clemons, program coordinator at Elizabethtown Community and Technical College. "People are recognizing at various stages – young, (former) military, and with degrees in other subjects – they are recognizing great needs for technicians by looking at the want ads and seeing the earning power they have." Salaries for diesel technicians can range from $40,000-$75,000 and up, depending on experience and location.
Clemons says he fields two-to-three calls per week from people outside the industry, but who are connected in some way to diesel technicians, each wanting to work their way into a new career.
RELATED: Schools can't keep up with demand 
Al Clark, diesel tech instructor at Lane Community College, Eugene, Ore., says the average enrollee in his program is in his late 20s and often in search of a new career. "Being a community college, and I've been here 29 years … pretty much that whole time our average age is in their late 20s," he says. "The high schools here on the west coast just don't have automobile programs like they used to, and because of that we just don't get the pipeline of high school students."
Mike Besson, vice president of service operations for Rush Enterprises, Inc., says a declining VoTech presence at the high school level means dealers have to be more proactive in helping guide prospective employees to diesel programs across the country.
"The reality is that the kids going from high school to VoTech schools…for the most part has remained pretty stagnant," he says. "We don't have any voice, from the counselor perspective, of sending kids to VoTech schools. If they see they can go and make some money working on computers and not have to work in a shop, they'll do that. The industry as a whole needs to do a better job of selling this profession at the high school level."
John Speights, diesel instructor at Shelton State Community College in Tuscaloosa, Ala., says more than half of his 16 to 18 students per semester are right out of high school, but the makeup of the other half has changed over semesters past.
"They're definitely getting a little older," he says. "I have two in their 50s and several in their 30s. We're seeing some older students that want to change careers. They know there is a demand for mechanics. And we're getting some females now, and that's something we hardly ever had a few years ago."
Dealers, too, are seeing slightly older technician candidates as they seek to replace retiring techs and fill new needs brought on by growth. "Our average technicians are male, (ages) 20-35, and we prefer they have some diesel experience and some certifications but we will train," says Sherrie Moore, human resources manager for Montgomery, Ala.-based Four Star Freightliner.
Scott Campbell, of New Jersey-based Campbell Supply, says his average technician applicant trends a little higher; a 32 year-old male, with high school and technical education.
But just because the students and budding technicians aren't fresh out of high school doesn't mean they're exactly old dogs struggling to learn new tricks. According to Clark, the opposite is true.
"We have a high success rate with (older students)," he says. "They are usually very motivated to be successful."
Military veterans, like 26 year old U.S. Marine Corps Infantryman Jeremy Dones, have among the highest rates of success.
"Our former military guys, they start out making a lot more money because they're older and have a background in other areas," Speights says. "They've got some organizational skills and different kinds of experience from the military and that is appealing."
"We're getting a lot of folks from the services … that worked in the motor pool," Besson says. "Those are very highly disciplined guys who have the ability to be trained. Some of the best technicians we've got have come from those ranks."
At the other end of the spectrum are enrollees who have no natural aptitude. "We have students coming in who have never turned a wrench in their life," Clark says.
"Like, which end of the screwdriver do I use?" Speights jokes.