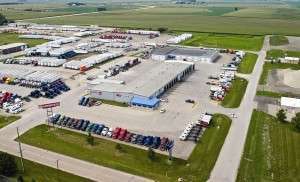 Each of the five finalists for our Second Annual Successful Dealer Award will be profiled in the coming weeks. The finalists are CIT Group, Inc.; Truck Centers, Inc.; Freightliner of St. Cloud; The Pete Store and Stoops Freightliner. The winner will be announced at the conclusion of the first day of the Commercial Vehicle Outlook Conference at the Great American Trucking Show in Dallas later this summer.
CIT Group, Inc. was founded and incorporated Nov. 6, 1975 as Central Illinois Kenworth Sales and Service, Inc. and now has 13 dealerships across Illinois.
Over nearly 40 years, the company has undergone a lot of changes; many of which were aimed at reducing its carbon footprint.
CIT Group president Erick Miner says the company has undergone an extensive energy efficiency evaluation, resulting in upgrades of lighting fixtures, an upgrade to energy efficient bulbs, occupancy motion detectors, radiant heating, increased green space (landscape projects) and window treatment/replacement.
The company has added high efficiency/low-water bathroom fixtures and replaced hand towels with hand dryers at its dealership locations.
Other recycling efforts include scrap metal, wood pallet, cardboard, the purchase of recycled office items, toner recycling and paper recycling.
The company also is working on dedicating some of its service to natural gas trucks at its St. Louis and Chicago locations.
CIT is actively involved with several colleges. It supports the business program at Illinois State University and offers internships to college students.
Miner was inducted into the College of Business Alumni Hall of Fame.
CIT currently sponsors classrooms at two technical colleges: UTI – Lisle, Ill. and Lincoln College of Technology in Indianapolis.
See CIT Group, Inc.'s nomination form here
"We recruit all techs out of technical schools in the Midwest," Miner says. "We sit on advisory boards for eight tech schools…We speak at those tech schools and hold recruiting sessions every other month at each school. Pretty much 12 months a year we're on campus."
The technical classroom isn't the only place where CIT reaches students. Internships in accounting, sales and marketing are offered to ISU students.
Miner and his company also reach out to students and parents at the high school level to make sure they understand the many benefits of working in the trucking industry.
"We work with 35 local high schools throughout Illinois and Missouri," he says. "We have student nights to talk to students and parents."
The discussion is focused on dispelling stereotypes about what it means to be a "mechanic."
"There's still a little misconception that if your child becomes a tech, they will be in a greasy and dirty environment," Miner says. "We try to educate students and parents that this has become a very high tech industry."
CIT hosts customer nights on-site and at hotel meeting rooms, and hosts vendor and OEM nights highlighting specific products. Vendors also travel with route drivers to meet with customers one-on-one to share new product information.
Parts and service departments participate in continuing education on-line along with attending regional and national training meetings. Each technician has a training plan to allow him to reach goals set by management. New sales staff participates in a truck sales training program and is partnered with an experienced salesman.
The company uses a variety of mediums to market itself, including trade show and customer surveys.
CIT also has a mobile app that has been developed to offers navigation, contacts and inventory.