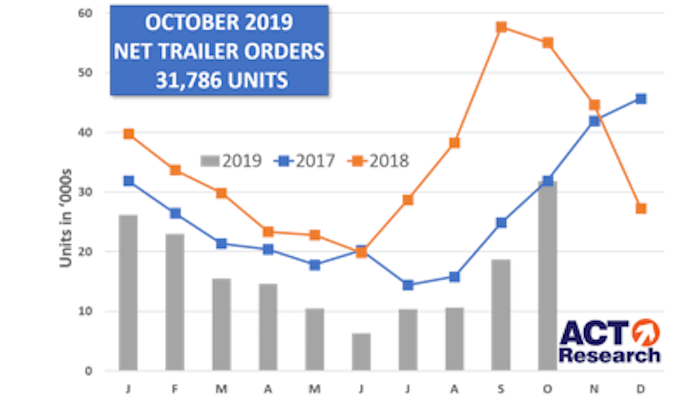 New U.S. trailer orders of 37,200 marked a 72 percent month-over-month increase in October, according to this month's edition of ACT Research's State of the Industry: U.S. Trailer Report.
After accounting for cancellations, net orders of 31,800 hit their fourth consecutive sequential rise, increasing 71 percent from September, but down 42 percent compared with October of 2018. Year-to-date, however, net trailer orders are 52 percent below last year, ACT reports.
"Most notable in this month's data is the strength of the dry van segment, bringing volumes in more than double September's level," says Frank Maly, ACT director, commercial vehicle transportation analysis and research. "Discussions we've had have indicated that several large fleet orders underpinned last month's results, but there are concerns about a continuation of that support, or at least support to that degree, in upcoming months."
Anecdotal information indicates CapEx commitments are proceeding at replacement levels, at best, as fleets balance equipment needs with the impact of softer freight demand and the resulting influence on their financials, according to ACT.
"As expected, trailer OEMs are encountering pricing pressure as the market pendulum has swung to the fleets' advantage," Maly adds.
ACT Research's State of the Industry: U.S. Trailers report provides a monthly review of the current U.S. trailer market statistics, as well as trailer OEM build plans and market indicators divided by all major trailer types, including backlogs, build, inventory, new orders, cancellations, net orders and factory shipments.