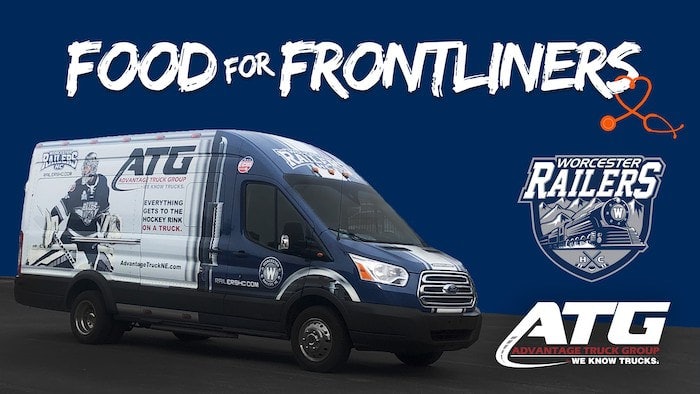 Advantage Truck Group (ATG) is partnering on Food for Frontliners, a program launched by the Worcester Railers Hockey Club ECHL affiliate that provides support and assistance to those on the front lines of the COVID-19 crisis.
Through the Railers HC Food for Frontliners, the hockey club is purchasing over $10,000 worth of food to be donated to local organizations throughout central Massachusetts. In addition, ATG of Shrewsbury is donating food and gift cards from local restaurants to the program every Monday through the end of May, which includes donations to the Saint John's Food for the Poor program of Worcester as well as to local food pantries, healthcare facilities and first responders at fire and police departments.
As part of the Food for Frontliners program, ATG recently donated pizza and gift cards to the overnight nurses and cleaning staff at UMass Memorial Medical Center and Saint Vincent Hospital, the company says.
"ATG has a strong tradition of giving back and is committed to fighting food insecurity in our local communities, so it was important to partner with the Railers to help support our food pantries and feed those dedicated to serving others during this crisis," says ATG President and CEO Kevin Holmes. "We are truly inspired by those working on the front lines in our community and proud to join this effort to show our appreciation for all they are doing."