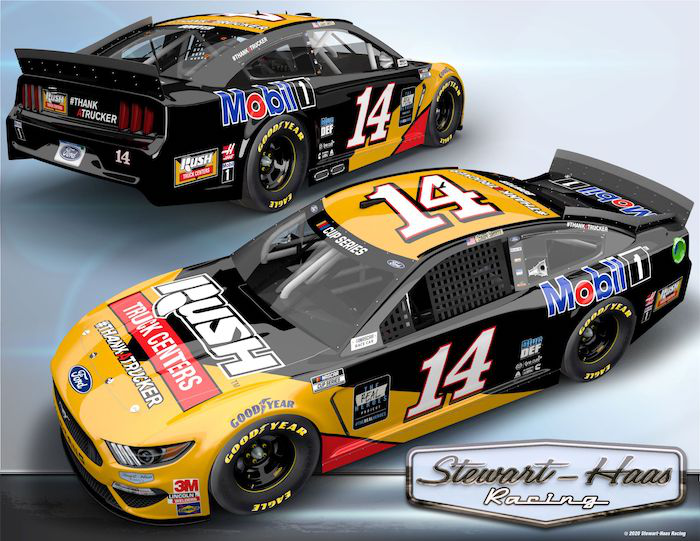 Rush Enterprises and Rush Truck Centers will support the nationwide #ThankATrucker campaign when NASCAR returns to the racetrack later this month.
With the #ThankATrucker campaign, Americans are encouraged to thank truck drivers for their hard work helping our country fight the COVID-19 pandemic as they deliver medical equipment, groceries and other needed supplies as well as perform vital services to keep our communities running.
The No. 14 Rush Truck Centers/Mobil 1 Ford Mustang will carry the hashtag #ThankATrucker as NASCAR returns this weekend at The Real Heroes 400 at Darlington Raceway, at the NASCAR Cup Series race at Darlington Raceway on Wednesday, May 20 and at the Coca-Cola 600 at Charlotte Motor Speedway on Sunday, May 24.
"We are proud to say thank you to the nation's truck drivers who have remained on the road to deliver goods throughout this pandemic.  We feel honored to support our customers, not only through this campaign, but with the service, parts, vehicles and technologies they need to keep operating," says Rusty Rush, chairman, CEO and president, Rush Enterprises. "We hope all Americans will join us in thanking truckers for the essential work they perform in supporting the country."
Clint Bowyer, driver of the No. 14 Rush Truck Centers/Mobil 1 Ford Mustang adds, "Anything that we've needed during the quarantine, whether it is medical supplies, food at the grocery stores or whatever the case may be has been delivered by a truck driver who's away from his family doing the job to make sure our country still works. If you see one of those truckers going down the road, give him a thumbs-up. They deserve it."