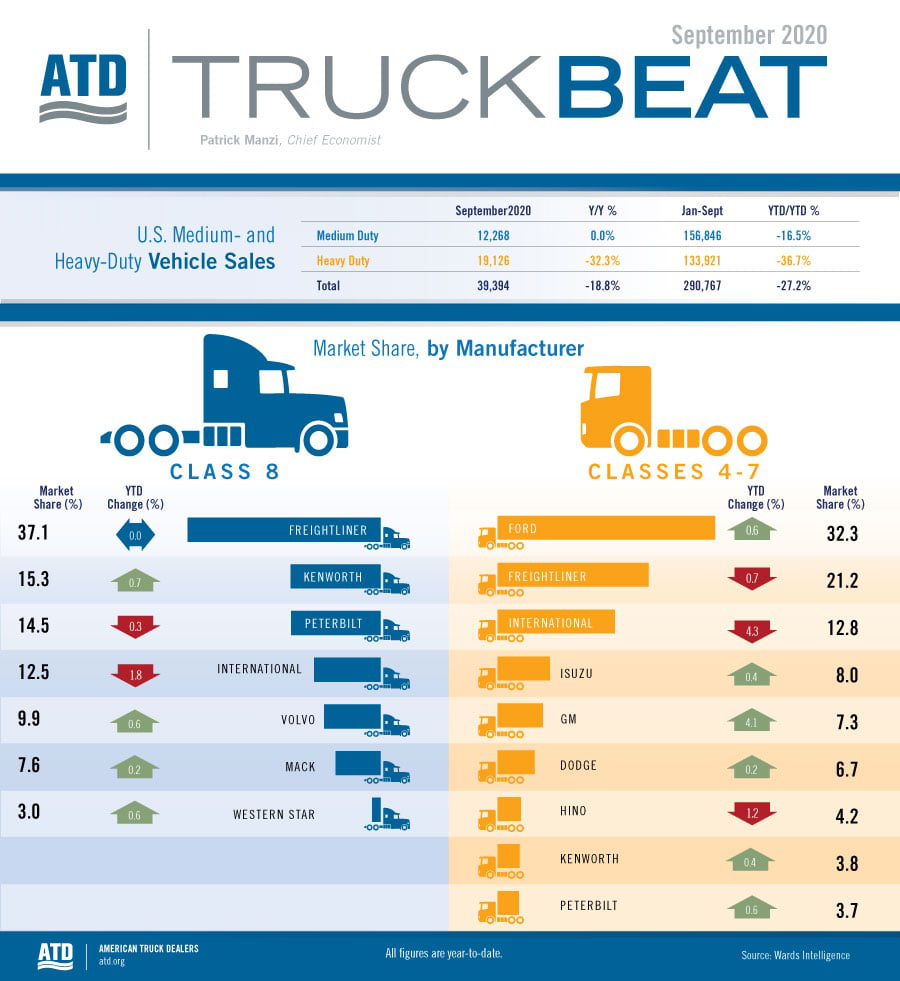 Through the first three quarters of 2020, commercial vehicle sales fell by 27.2 percent compared with the same period in 2019. While Class 8 truck sales were their highest so far this year in September, they were down by 32.3 percent compared with September 2019, according to American Truck Dealers' ATD Truck Beat.
Medium-duty sales, while still down year-to-date, have fared better than Class 8 sales. In September medium-duty truck sales were flat compared with September 2019 and down by 16.5 percent year-to-date.
"Commercial vehicle sales have shown signs of improvement in recent months and are likely to increase the rest of the year, though we will not see a return to 2019 levels this year," says Patrick Manzi, NADA chief economist.
According to preliminary data from ACT Research, September orders for medium- and heavy-duty vehicles are expected to be up for the fourth straight month. This follows 19 months of declining orders.
Orders for Class 5-8 trucks improved by 49 percent compared with August 2020 and are up 88 percent compared with September 2019. Because consumers are stuck home during the pandemic, their buying habits have shifted away from services and toward goods. This has bolstered freight delivery, with fleets that haul consumer-retail goods outperforming fleets that haul goods for the industrial and energy sectors.
"Look for commercial truck sales to continue improving the rest of the year and into 2021. We expect sales of some 200,000 medium-duty units and 185,000 heavy-duty units in 2020," Manzi says.