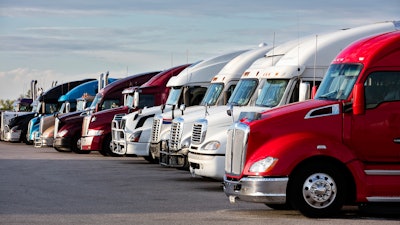 ACT Research announced Monday in its most recent state of the industry used truck sales report that Class 8 used truck pricing was up 5 percent in June compared to May and up more than 50 percent compared to the same period last year. ACT says same dealer sales volume was down 1 percent month over month and 5 percent year over year, but up 20 percent year to date.
Average mileage for trucks retailed by dealers last month was 5 percent lower than May and age was unchanged..
ACT Vice President Steve Tam says June's data indicates an early sea change may be occurring in the used truck space. Tam says sales volumes typically increase nearly 9 percentage points from May to June, so the slight contraction in volume was counter to market norms. Tam says external pressures (freight volume, lack of new vehicles) are the primary drivers of low volume levels. Dealers simply cannot acquire trucks fast enough.
[RELATED: Used market setting records as prices continue to swell]
"Discussions we have had with dealers during the past month have centered on price and availability," he says. "Circumstances are forcing dealers and buyers to pay not only way more than normal for trucks, but way more than they want to pay. While we do not know when the market will turn, we note that underlying fundamentals suggest that the market transition will be more orderly, absent the popping of any bubbles like in some previous cycles."
Tam also notes ACT Research has had anecdotal conversations that indicate "used truck inventory continued to contract in June, increasing pressure on both sales and pricing."
He also notes the retail market was stronger than its auction and wholesale counterparts last month. "Channel results remained mixed in June, with the auction segment declining in all three time periods. Conversely, the retail markets showed improvement for all comparisons. Wholesale transactions improved in the short term, but were weaker longer term," Tam says.