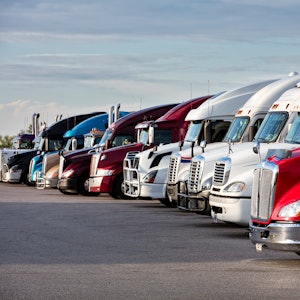 The law of supply and demand has created a scarcity situation for used Class 8 truck sales, according to ACT Research's State of the Industry: U.S. Classes 3-8 Used Trucks.
Preliminary used Class 8 volumes dropped 6 percent month-over-month and 12 percent year over year (y/y) in June. Through the first six months of the year, activity is 23 percent higher compared to the same period a year ago, ACT reports.
Other data released in ACT's preliminary report included month-over-month comparisons for June 2021, which showed average prices increased 5 percent, as average miles fell 1 percent and average age was unchanged compared with May.
Compared with June of 2020, average price was 63 percent higher, with average miles and age lower y/y by 5 percent and 2 percent, respectively. On a year-to-date basis, average price is 38 percent above its year-ago level for the first six months of 2020, with average miles and age down 4 percent and 3 percent, respectively, on a year-to-date basis.
"The industry is starting to see tougher comparisons since it did not take long to shake off the immediate effects of COVID-19. Year-to-date gains also started to erode, slipping nine percentage points, to 23 percent. The drop in sales was counter to seasonal expectations, which called for about a 10 percent increase. However, lack of inventory continues to hamstring sales efforts," says ACT Vice President Steve Tam.
Regarding used truck prices, Tam says, "For the first time since we started following the used truck market almost 20 years ago, the average price of 3-year-old trucks with 300,000-400,000 miles on them broke the six-figure barrier. The feat is made even more impressive when one considers prices for these late model trucks started the year at just over $70,000.
"Arguably, the trucks did not change to justify the increase in price. Rather, the simple law of supply and demand has created a scarcity situation, and there is no viable substitute to the venerable Class 8 truck. Hence, prices are through the roof, with no relief in sight," he says.
ACT's Classes 3-8 Used Truck Report provides data on the average selling price, miles and age based on a sample of industry data. In addition, the report provides the average selling price for top-selling Class 8 models for each of the major truck OEMs.