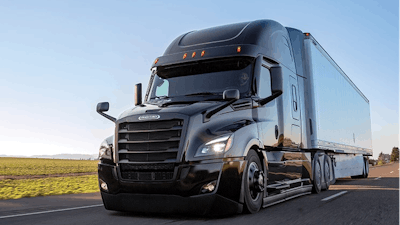 Commercial truck sales totaled 231,813 units in the first half of 2021, ATD announced this week in its most recent Truck Beat report. That total was up 28.5 percent from the COVID-19-impacted first-half of 2020.
Class 4-7 medium-duty sales topped 120,000 units, and heavy-duty truck sales exceeded 111,000, increasing 23 percent and 35.1 percent, respectively. ATD says sales rose because of solid freight demand, as many sectors of the economy reopened and more consumers returned to their normal routines. In June 2021, Class 8 sales were 19,840 units, the second-highest monthly total this year and just over baseline replacement demand of around 19,000 units a month.
[RELATED: New reports show more good news for future equipment sales]
Freightliner and Peterbilt, the top two Class 8 brands, were also the only OEMs to see their marketshare grow in the first half of the year. In the medium-duty space, leading seller Ford increased its marketshare by 1.8 percent year to date. Dodge, Isuzu and GM also saw market growth.
"We believe that sales in second-quarter 2021 were hampered by the lingering supply chain issues that have affected commercial truck production for months," says Patrick Manzi, NADA chief economist. "Total Class 8 truck orders in first-half 2021 were over 208,000 — the third-highest total on record for the first half of a year. Nearly all order slots for 2021 have been filled, and orders should increase later this year as OEMs open their order books for 2022."
Manzi goes on to say shortages of new-truck inventory have led freight purchasers looking to capitalize on strong freight demand and high freight rates to turn to the used market. As such, used truck prices are up nearly 80 percent year over year for some popular segments.
"Because of the reopening and expanding U.S. economy, we expect continued strength in the commercial truck market for the rest of the year and into 2022," says Manzi. "Demand for new-truck inventory is out there, but sales will likely continue to be somewhat limited by supply chain issues. For the whole year we see medium-duty truck sales of around 240,000 units and heavy-duty truck sales of some 260,000."