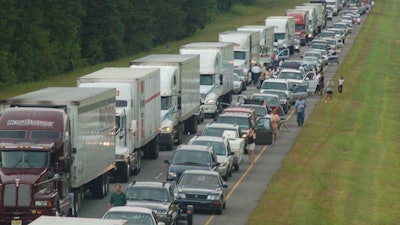 Two reports published by ACT Research last week indicate despite incredibly impressive freight and commercial vehicle demand metrics in July, there are small underlying economic and societal issues that could slow trucking's fantastic year if they become more visible and impactful in the months ahead.
In ACT's monthly Transportation Digest report, the company states most data indicates and finds reliable seems to show strong freight conditions continuing into 2022, says Kenny Vieth, president and senior analyst.
"Demand for transportation services remains extraordinarily strong, and all capacity modes are straining to meet it — and a basic law of market economics is again proved: when demand outstrips supply, prices rise. With favorable freight conditions amidst constrained capacity, freight rates are expected to remain elevated," Vieth says.
The company's analysis was similar in its For-Hire Trucking Index, which showed an uptick in volumes and pricing moderating in July, with a still-strong supply-demand balance.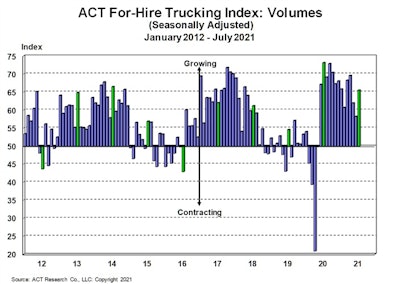 "The re-acceleration in truck volumes is consistent with strong demand for inventory restocking ahead of the holidays, along with network congestion on the railroads," says Tim Denoyer, vice president and senior analyst. "With tight inventories, strong U.S. consumer balance sheets, improving capex, and infrastructure stimulus in the pipeline, the fundamentals of the freight cycle remain clearly positive."
Vieth's comment on pricing also was confirmed by the For-Hire index, with July recording the second-highest price in survey history (dating back to 2009). "With the driver market still tight, new equipment production still challenged and demand still strong, the recipe is right for record rate increases," Denoyer adds. "However, driver hiring has begun to improve since the extended unemployment curtailments started in June, and response to higher driver pay rates should lead to more gradual progress."
[RELATED: Commercial truck sales top 230K units in first half]
The company's supply-demand balance data also reflected the tightness in the current freight environment, Denoyer says, with capacity remaining constrained and the increase from June primarily due to higher volumes.
Yet supply and demand also are one of the company's two ongoing market concerns. ACT notes Class 8 retail sales remain constrained by tight inventories and unmet production demand due to parts shortages — most notably semiconductors. COVID-19 also remains a concern, with the Delta variant surging across the country and once again driving up cases, hospitalizations and mitigation efforts.
Adds Vieth, "Stretching the horizon, regulations, especially emissions, stand out for increasing industry costs and volatility, while infrastructure investment offers upside possibilities for freight."