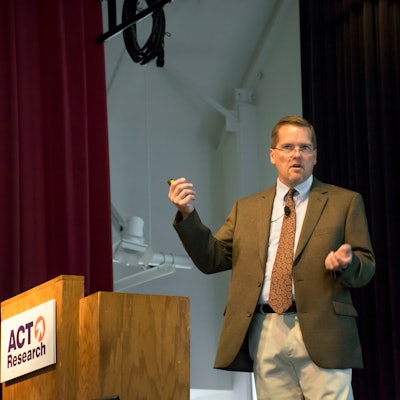 Preliminary used Class 8 retail volumes decreased 22 percent month-over-month and dropped 23 percent year over year in November. That said, through the first 11 months of the year, activity is 10 percent higher compared with the same period a year ago, according to the preliminary release of the State of the Industry: U.S. Classes 3-8 Used Trucks published by ACT Research.
Other data released in ACT's preliminary report included month-over-month comparisons for November 2021, which showed that average prices rose 11 percent, as average miles dropped 3 percent compared to October. Average age was flat month over month. Compared to November of 2020, average price was 69 percent higher, with average miles and age greater by 3 percent and 8 percent, respectively.
On a year-to-date basis, average price is 40 percent above its year-ago level for the first 11 months of 2020, with average miles unchanged and age up 1 percent on a year-to-date basis.
ACT's Classes 3-8 Used Truck Report provides data on the average selling price, miles and age based on a sample of industry data. In addition, the report provides the average selling price for top-selling Class 8 models for each of the major truck OEMs, among other data.
"Preliminary same dealer sales moved deeper into negative territory in November. Historically, the sequential decline in November was very characteristic, as November is the second weakest sales month of the year" says ACT Vice President Steve Tam.
"Despite the current softness, sales continue to outperform on a year-to-date basis, now 10 percent higher with just one month remaining in the year. Even though inventory is tight, it has not stopped flowing. New truck activity continues to feed the seemingly unsatiable demand from owner/operators and fleets alike," Tam says.
"As has been the case since late 2020, the industry's inability to meet truckers' equipment needs has resulted in unrelenting used truck price escalation. As we have posited for some time, increasingly difficult comparisons are shrinking long-term gains, and owing to expectations for more of the same as it relates to freight and equipment availability, prices are likely to continue climbing higher in the near term," he says.