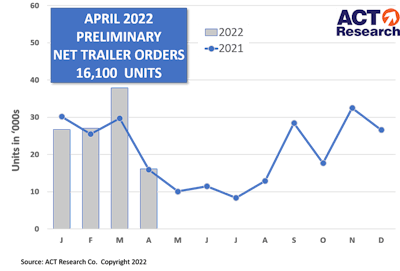 Trailer orders followed truck orders downward in April.
ACT Research preliminary trailer orders fell to 16,100 units last month, a 60 percent drop from March and only slightly up from April 2021. FTR's preliminary trailer orders were slightly higher at 16,800 units, 53 percent below March. FTR says trailer orders for the past 12 months have totaled 252,000 units.
ACT's Frank Maly, director, CV transportation and research, says a minor drop in April was expected due to seasonal patterns but last month's preliminary total indicates volumes fell more than expected.
"While some may think recent economic challenges could be a contributing factor to the sequential decline, it's more likely that a reluctance to push the order board horizon into next year is responsible, as OEMs continue to closely control order acceptance," says Maly. "Final reporting will likely show these lower order levels will still result in an average backlog-to-build ratio of just over eight months for the total industry. That will stretch through the end of the year at current production levels.
"There is no reason for trailer OEMs to overbook, with increasing uncertainties regarding the supply chain," adds FTR's Don Ake, vice president of commercial vehicles. "The situation in Shanghai is going to delay some components that are needed to make trailers. In addition, the war in Europe is creating shortages of aluminum with an associated spike in pricing. These and other doubts have delayed OEMs from issuing quotes for 2023 requirements. So, the low order volumes reflect OEMs filling in the months of the 2022 production schedule they feel more confident about."
But Maly and Ake remain bullish for trailer market demand.
"Our discussions indicate active negotiations between OEMs and fleets continue, as fleets prepare to make commitments for 2023 production, when that opportunity becomes available," says Maly.
Adds Ake, "The pent-up demand for trailers is estimated at over 100,000 units. But now, the supply chain difficulties are expected to extend into 2023. OEMs will then have to build at high rates for an extended time to catch up to demand. The short-term prospects are subdued, but the long-term outlook remains bright."