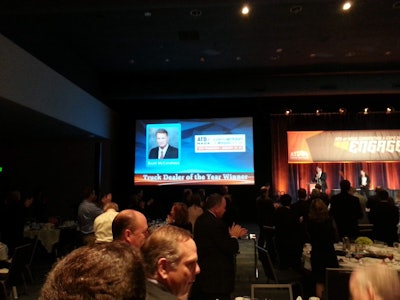 The tidal wave of truck sales from 2006 and 2007 have spent the last year crashing into the aftermarket, and the good new is those currents will sweep forward until at least 2019.
From the two years leading through 2007, Class 8 truck sales reached records heights, combining for 537,000 units. Those trucks are now within a seven to nine year window for aftermarket service opportunities, according to John Blodgett, vice president of sales and marketing for MacKay and Company, who spoke at Heavy Duty Aftermarket Dialogue at the Mirage Hotel and Casino in Last Vegas Monday.
"The highest annual parts demand comes in years seven through nine, which puts the aftermarket currently in the sweet spot," he says.
MacKay and Company estimated the 2014 aftermarket as a $26.19 billion business. That growth trend is expected to climb to at least the end of this decade when it is expected to reach nearly $32.5 billion.
As of 2014, there were 2.9 million Class 8 trucks on the roads, nearly double the 1.5 million registered in 1994. Class 6 and 7 trucks have actually decreased marginally; down 130,000 units in the same 20 year span, according to MacKay and Company.
"The medium duty truck universe has not grown in 40 years," says Stu MacKay, president of MacKay and Company, "but the overall universe has more than tripled."
Losses in lease and rental and for-hire services have helped drag down the Class 6 and 7 truck population, even though the construction segment posted a 5 percent gain alone.
For-hire trucking continues to lead the heavy duty population with a 4 percent growth from 1994 to 2014. Construction, owner-operators and lease/rental were the only segments to lose ground.
With 33 percent of the market, International leads marketshare in the medium duty segment, followed distantly by Freightliner (24 percent), Ford (17 percent) and General Motors (13 percent). No other manufacture had double-digit share in the segment.
Freightliner's 29 percent share in Class 8 is by far the segment leader with International's 17 percent brining in second place. Kenworth and Peterbilt each hold 13 percent of the Class 8 market. Volvo comes in next with 11 percent and is followed by Mack with 10 percent.
Among the major changes taking place in the aftermarket is the proliferation of OE captive engines.
In 1986, Detroit (35 percent), Cummins (48 percent) and Caterpillar (17 percent) fought over marketshare in Freightliner trucks.
However, now that Daimler has acquired Detroit, it was the engine of choice for 2014, with 74 percent share last model year.
In 1986 Caterpillar had at least a part of the market in each nameplate, but that has dropped to zero with their exit of the market. That leaves only Cummins to duke it out with every major truck North American truck OE.
"Now," MacKay says. "It's either captive or it's Cummins."
Cummins owns at least 60 percent share in International, Kenworth and Peterbilt as of 2014, but makes up only 8 percent for Mack, 26 percent for Freightliner and 18 percent for Volvo.
Truck age hit another record high in 2014, registering 9.74 years, according to MacKay and Company.
"That's another positive for the aftermarket," Blodgett says.
Parts are also lasting longer, with all wearable parts lasting more miles than ever before. For example, a well maintained diesel engine can go upwards of 770,000 miles before a teardown. That's up from just more than 275,000 30 years earlier, according to MacKay and Company.
In 2014, the biggest demand came from the for-hire segment (29 percent) with lease and rental (13 percent) a distant second. Power generation, which includes belts and engine components, was the most common need with 37 percent.