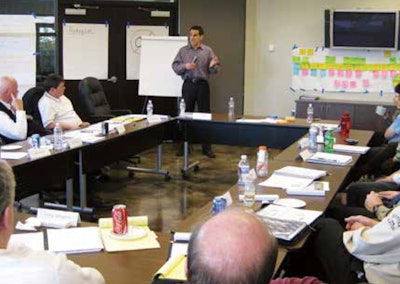 The openness of your counterparts means anyone who is actively willing to give information also is quickly accepted and provided the opportunity to receive.
Bruce Greer says that's something he learned almost immediately.
Greer was a veteran of the dealer market when his company, E.M. Tharp, purchased the independent distributor operation Kroeger Equipment and Supply in 2004.
As the company's general manager, Greer's first task after the acquisition was to attend the 2004 Council
of Fleet Specialists (CFS) annual meeting and start learning about independent aftermarket distribution.
He still remembers the event like it was yesterday.
"I remember thinking afterward, 'This was the greatest thing I've been to in my life,'" he says. "I'd been on the dealer side for years and I had never seen a group of dealers as willing to talk about their businesses as the aftermarket guys were. It was incredible."
Greer says everyone he met at that first meeting was friendly, helpful and most importantly, informative. He says he learned as much from his contemporaries at that meeting than he would have in months or a year with a group of dealers.
Buoyed by the confidence he gained at that first meeting, Greer says he dove head first into independent distribution. He immediately began attending more industry events, and not long after joined the board at HDA Truck Pride.
"When you go to dealer meetings there are a lot of good relationships there, but it's a little different environment," he says. "People are a bit more guarded and less willing to share information. The independent aftermarket is a much more open community."
Ian Johnston says he had a similar experience when he entered the industry full-time a year later.
While Johnston wasn't totally new to the aftermarket like Greer — he'd worked in his father's business, Harman Heavy Vehicle Specialists, since he was a kid — it wasn't until he formally joined the company in a professional role that he discovered his father wouldn't be the only person he could rely on.
"The amount of knowledge in this industry is incredible," says Johnston, now Harman's vice president of operations and marketing. "You just have to be willing to get involved. To ask questions and listen."
Edward Kuo says that's the tactic he used when he first stepped into the industry.
As someone who didn't know the difference between an air brake and a hydraulic brake, Kuo says he was sur- prised by how quickly he was able to get acclimated to the parts industry.
"Having an extroverted personality, I knew the fastest way to get up to speed was by asking questions of other people," says Kuo, now the director of sales, motor vehicles at Datalliance. "When I started, I remember asking some really, really ridiculous questions. But I needed to know the answers if I were to succeed at my job. Even now, I know Wikipedia can't answer all of the questions – particularly those questions that involve personalities and processes."
He says the independent aftermarket did, without hesitation.
But why, you ask?
Why are so many professional distributors and suppliers willing to sit down and talk shop with potential competitors?