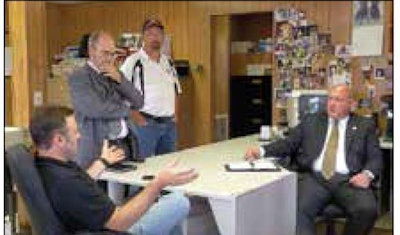 Don Purcell, partner at Stone Truck Parts, believes that openness comes from the industry's faith and total commitment to the prosperity of the independent distribution channel.
People in this industry want and need it to remain successful.
"I think everyone realizes if our industry is to continue to grow that we need to be willing to work together," he says. "If one person develops a technique that can help others, it is in his best interest to share it because then all of us can improve our business, and the channel, by using it."
"That's what I love about our industry," adds Kuo. "Even though you may have a lot of competitors, there's also
a distinct feeling that we are all in it together. We can help each other, and our common competitor is a greater threat than each other."
"We're all part of the same aftermarket," says Edward Neeley, president at Truck Supply Co. of South Carolina. "If we're going to survive as group, we've got to be able to help each other."
That survival instinct also can be found in the way information is passed across generations, adds Derek Quys, international sales manager at Premier Manufacturing.
"I think the older generation we have in the aftermarket today is really interested in the success of the younger people joining the industry," he says. "They see that this next generation is going to be taking their place and they want to help them."
Johnston agrees.
"I think one of the really big benefits of growing relationships in this industry is the time you spend talking with your peers," he says. "There are people in this industry that know more about it than I'll ever learn, but as I spend more time with them and develop those relationships, I've been able to lean on them and leverage their knowledge to help me, and our business."
Most industry members believe there are two areas in particular where that kindness is most visible: through the aforementioned passing of advice and in relaying industry news and information.
Neeley says he'll ask just about anyone he knows in this industry — competitor or not, buying group partner or not — for counsel if he believes they can help him. And he says an overwhelming majority of the time, he gets the exact information he's looking for.
"I'd say at least 80 percent of what we do happens after we've talked to somebody else," he says. "It might be we're looking at a new product line, or we're considering redesigning the showrooms in our stores. It doesn't matter.
"Everyone does everything a little different, so I'll ask around and see how others have done it before deciding how we're going to do it."
Wheelco's Steve Stich says his industry relationships pay off in a similar fashion.
"The value I receive comes from the free exchange of ideas and business best practices that have benefitted my industry peers," says the Wheelco president. "I then take those ideas or practices to my executive team and discuss whether or not they would be applicable to our business."
"I just hear from other distributors all the time," says Greer. "Guys will reach out with a question, or let me know they heard something that might affect our operation.
"It seems like there isn't a week that goes by that we aren't talking to someone else. And in almost every situation, everyone is always, 'Hi, what can I do for you?'"
Johnston says he witnesses the same thing, and he's never not impressed by it.
"I've been very surprised by how candid people in this industry will be, and how completely open they are when asked a question," he says. "I think that's one area where the aftermarket has a significant advantage. We go to market much differently than other channels."
And that's something all members of the independent aftermarket are eager to maintain.
Purcell says independent distributors are open and honest with each other because they trust each other, both personally and professionally. They trust that the information they provide will be used to help a customer, and to help improve the performance and appearance of the industry as a whole.
When that takes place, he says even competitors can be allies.
"Some of us share similar customers but the reality is we are all professional individuals and our goal is to take care of the customer," he says. "So if there's something I can do to help another distributor better take care of a customer, I'm going to do it."
Neeley, whose corporate headquarters is a little more than 90 miles from Purcell at Stone, subscribes to the same theory.
"There's no reason we shouldn't help each other," he says. "Some guys get stuck in their ways and when a customer comes to them looking for a part they'll say, 'We'll get it' but they won't even thinking about calling anyone else. And that customer will wait days for that part when another distributor down the street had it in stock.
"That doesn't get the customer back on the road, it doesn't reflect positively on the [independent distribution] channel."
Relationships remove that standoffishness. The aftermarket works best as a team, and good relationships build the team's chemistry.
"From time to time we may be competitors but there is business out there for all of us," says Greer. "Most of our problems are similar in nature. If we work together as a group, we can work out those problems and help each other build stronger, better businesses."