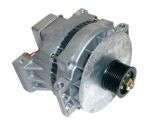 Alliance Truck Parts says it has introduced a new alternator line, rated for the higher temperatures found in 2007 and 2010 EPA emissions-compliant engines.
"Adding rotating electrics to our product offering is another example of how we work to meet our customers' needs with a quality product at a great value." said Todd Biggs, director, aftermarket parts and service marketing for Daimler Trucks North America.
The new alternator line covers a wide range of applications that meet or exceed current OEM specifications for quality, fit and finish.
The heavy-duty alternators are engineered of all-new parts for real durability in all major heavy-duty applications.
Alliance Truck Parts alternators are available with pad mount or J180 mount options. Amperage ratings range from the compact 444 model's 150 Amps, up to a full 210 Amp rating. To accommodate the higher temperatures in today's EPA-compliant engines, temperature ratings for all models are at 125 C with the exception of the compact model which carries a 110 C rating.
Other new features for various models include a redesigned solid lead frame rectifier with a welded diode assembly that runs cooler and lasts longer, strong low-end performance, sealed brush box, case ground, heavy duty front and rear bearings, dual internal fan, and e-coated housing for maximum corrosion resistance.
Alliance Truck Parts alternators utilize a solid lead frame, creating a single, solid connection to all of the internal diodes as well as improving shock and vibration resistance.