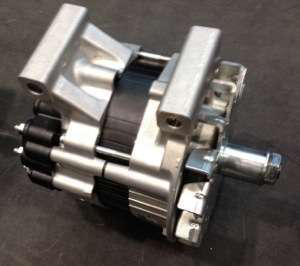 Less than 24 months after entering the heavy-duty alternator business, Mitsubishi Electric unveiled a new 200 amp heavy-duty alternator at the Mid-America trucking Show in Louisville, Ky. Friday.
The Diamond Power A200 (DP A200) – a brushless, pad-mount alternator for heavy-duty trucks – features five new patents.
"This is some of the most advanced new technology that I've seen in a long time," says Dave Stone, executive director, Mitsubishi Heavy Duty, says.
Mitsubishi is an established player in heavy-duty starters, and decided to bring alternators to market in 2013.
"Everywhere we sell a starter currently, we expect to sell an alternator," Stone says.
The company says the DP A200 offers the highest efficiency rating among major 12-volt heavy-duty alternators in North America, which includes Mitsubishi's 160 amp model.
Mitsubishi Electric says it "over-designed" the alternator so it would meet today's requirements and requirements yet to come.
Weighing in at just more than 21 lbs., 24 percent less than its closest competitor, the company says the alternator allows for improved fuel economy because it requires minimal engine horsepower to operate.
The unit provides 137 amps of output at engine idle speed and features "remote sense" and "5-wire" technology that fits all major North American OE trucks.
Mitsubishi says the DP A200 exceeds all North American OEM requirements and are designed to last more than 1,000,000 miles.
The DP A200, which will be released to the aftermarket next week, includes a 3-year unlimited Diamond Guard warranty.