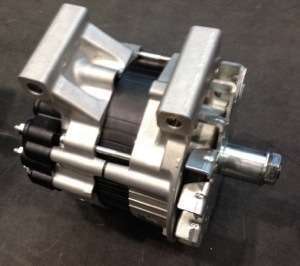 As 2014 rapidly comes to a close, Truck Parts & Service would like to take a look at what made the biggest headlines this year.
We start with new products.
Beginning today, Truck Parts & Service will count down the ten most-read new products releases of the year from this website. One release will be posted per day over the next two weeks, with the top product of the year to be announced on Monday, Dec. 22.
We also will be releasing a top-ten list of all news later this month, so that's also something to look forward to heading into the holidays.
Without further ado, the tenth most-read new product release on this website was Mitsubishi's announcement from the Mid America Trucking Show in March that it had debuted a new 200-amp alternator.
Weighing in at just more than 21 lbs., the company noted that the alternator improves fuel economy because it requires minimal engine horsepower to operate.
The unit provides 137 amps of output at engine idle speed and features "remote sense" and "5-wire" technology that fits all major North American OEM trucks, the company says.
To read the original release in its entirety, select the link at right or CLICK HERE.
And be sure to stay tuned tomorrow as product No. 9 will be released.