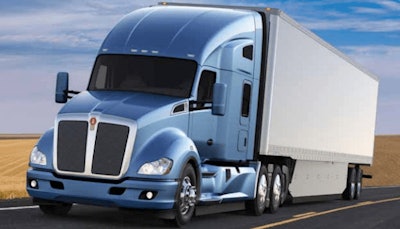 [This article was originally published in 2020 by Trucks, Parts, Service. It has been updated to include more timely information.]
Fleets have many choices when spec'ing their trucks and trailers to reduce aerodynamic drag in an effort to increase fuel economy.
It would seem if a fleet wanted to save the most money per gallon, it would equip its trucks with as much aerodynamic equipment that could be spec'd or retrofitted. That is not the case, however, as certain factors come into play, such as vocation, government regulations, return on investment (ROI) and real-world practicality.
Truck and trailer OEMs and dealers see firsthand what customers choose. They also see what aerodynamic equipment has recently fallen out of favor or deemed flat out impractical by their customers.
"Customers have different operating environments. Things like length of haul, time at highway speed, dock backings, etc., all have an influence," says David Giesen, Stoughton Trailers vice president, sales. "Some aero devices can be more susceptible to damage than others and some people are more concerned about compliance with state and federal regulations versus actual fuel savings."
What customers want
Giesen says side skirts are the most popular by far, with other aerodynamic equipment for trailers garnering little overall interest. "They have the best actual fuel savings and pricing makes them very attractive, [providing the] best ROI," he says.
Doug Kenney, director of national fleet sales, East Manufacturing, who has over 40 years in the trailer industry, agrees. "When fleets are incorporating aerodynamic devices on platform trailers, side skirts are almost always specified," he says.
"When we talk aerodynamics, especially for the over-the-road fleets, we talk about the Kenworth T680," says Cameron Nichols, marketing manager, Palmer Kenworth. The T680 is Kenworth's most aerodynamic model and has received the U.S. Environmental Protection Agency SmartWay designation.
[RELATED: New research shows e-commerce growth potential for truck parts]
"The Advantage T680 package is popular with numerous customers. The fuel efficiency savings provided by state-of-the-art onboard technology, the Paccar MX series common-rail fuel injection system and additional fairings and skirts leave a lasting impression in the marketplace," Nichols say.
"A lot of my customers are looking for improved aerodynamics and the drive axle wheel covers are widely accepted," says Mike deLong, sales consultant, Fyda Freightliner.
deLong says the wheel covers, which used to be difficult to remove to check tire pressure, have greatly improved. "For a company concerned about aerodynamics, it's usually associated with fuel savings, so regularly checking the tire pressure on all of the tires is important," he adds.
Fyda Freightliner customers also prefer longer sleeper fairings, which minimize the gap between the cab and the trailer, deLong says. Freightliner offers the fairings in three lengths, 12 in., 20 in. and 24 in.
"When trailer skirts first emerged on the market, they represented the vast majority of aftermarket trailer aerodynamic retrofits. As skirts have become nearly a standard offering on new trailers, our retrofit activity today is focused more so on tails, wheel covers and vented mud flaps," says Velociti President Deryk Powell.
While not aerodynamic equipment, fleets also are opting for complementary methods of achieving greater fuel efficiency.
"With regard to platform trailers, other options often are incorporated to meet fuel-saving benchmarks without using aerodynamic devices. Low rolling-resistance tires and tire inflation systems are examples of alternative options," Kenney says.
What's not so popular
In close proximity to wheel covers but far apart in the customer preference spectrum are the drive wheel fairings mounted between and behind the tractor's drive wheels.
"If you look at a used truck on a lot, most of the drive wheel fairings are dinged up. If the driver runs over a curb, he can damage one of them. It's not too hard to do. A retread coming off or a blowout would most likely tear them up," says Fyda Freightliner Fleet Consultant Ken Sekerak.
Sekerak adds it's not uncommon for a customer to spec a standard aerodynamic bumper instead of one lower to the ground that provides less wind resistance. It has been his experience that customers don't want the full aerodynamic packages with the decreased ground clearance because of the damage they can sustain.
"A lot of my customers don't want those anymore because, quite frankly, the drivers keep tearing them off," he says.
Giesen says trailer tails have dropped in interest with customers. "Most customer feedback is they get in the way, get damaged and aren't utilized enough," he adds.
Powell says manual trailer tails have fallen out of favor with customers because of the challenges to deploy them before trucks hit the road as well as maintenance and repair costs. That said, "the latest evolution of compact, automated trailer tails is driving a lot of interest currently," he adds.
[RELATED: Class 8 orders hit six-month low]
Jeff Eberhart, Fyda Freightliner sales manager, says customers are looking at total cost of ownership, which involves weighing fuel efficiency with the cost of replacing damaged aerodynamic equipment, such as low front bumpers, side skirts, wheel fairings, rear fairings, etc.
"The small percentage of incremental increase an owner may see in fuel economy due to aerodynamic options can sometimes be overshadowed by the cost of repairing any damage and downtime due to the damage repair," Eberhart says.
With the national average cost of diesel hovering around the $2.40 mark, the focus on maximizing aerodynamics, in general, among fleets might not be as significant at this point in time.
"Fuel mileage enhancements maybe aren't as critical now. If fuel prices increase significantly, there could be a different attitude and renewed evaluation of these options," says Sekerak.
Eberhart agrees. "When fuel was close to $4, fleet managers were running the numbers and figuring if they could get 0.1 percent better fuel economy because of certain aerodynamic equipment, they could make up for the cost of the option in a year and a half or whatever their ROI requirement might be," he says.
"But with the current price of fuel, the breakeven analysis/payback period on the aerodynamic options is substantially longer. Given the possible risk of downtime and CSA violations due to damaged components, extreme aerodynamic options are not a fleet priority for the majority," Eberhart says.