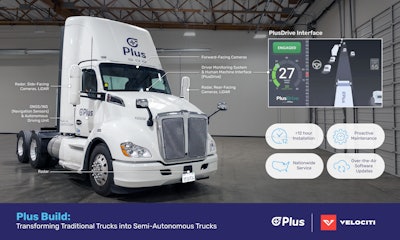 Plus has selected Velociti as the deployment and maintenance partner for the national Plus Build program.
The Plus Build program takes less than a day to turn new and existing Class 8 freight trucks into semi-autonomous trucks by equipping them with state-of-the-art lidar, radar, and camera sensors and Plus's proprietary autonomous driving software. The result is PlusDrive, the industry's first commercially available autonomous trucking solution.
According to Plus, PlusDrive improves safety, enhances driver comfort, and saves at least 10 percent in fuel costs. Installation is performed at locations most convenient to customers, in or near major transportation hubs across the U.S. Maintenance services are available nationwide by utilizing mobile resources to meet customers where they are.
"Plus Build helps companies unlock the benefits of autonomous driving technology today by quickly modernizing trucks to improve their safety and uptime. Velociti's unmatched technology installation and service network will help us get PlusDrive into the hands of more truck drivers across the country to make their jobs safer, easier, and better," says Shawn Kerrigan, COO and co-founder, Plus.
Through the Plus Build program and partnership with Velociti, Plus is now deploying PlusDrive nationwide. Some of the world's largest fleets and truck manufacturers are already participating in Plus Build and are operating PlusDrive-enabled trucks on the road today. In addition to Velociti's technology installation services, Plus says it is implementing Velociti's VeloCare solution, a flagship proactive system-health monitoring program including remote and mobile services to maximize technology uptime.
[RELATED: Embark Trucks completes winter conditions autonomous testing]
"Partnering with Plus to provide our services as an important part of the PlusDrive solution leverages Velociti's decades of experience deploying and maintaining innovative fleet technologies. We are excited to enter into this strategic partnership to help PlusDrive customers realize the benefits this transformational technology brings to their businesses and to the transportation industry," says Ryan Powell, senior vice president, Velociti.
Supervised by a truck operator, Plus says PlusDrive can autonomously handle the following in normal traffic conditions on a highway:
Lane centering
Driver initiated lane change
Traffic jam assist
Predictive fuel optimization
Adaptive cruise control (down to zero)
Lane merging
Driver attentiveness detection
Operational Design Domain (ODD) checker
Self-calibration
Over-the-air updates