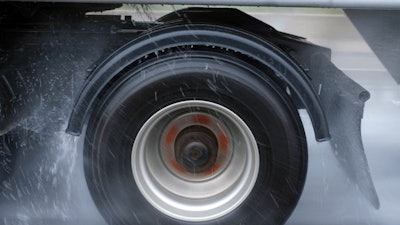 With their precarious positioning near wheel ends and tires and vast importance to many duty cycles, spray suppression products have long been an essential aftermarket product line.
But while every trucker needs mud flaps and fenders, parts distributors who fail to support and promote spray suppression product lines — beyond having inventory available for inevitable replacement sales — miss the opportunity to turn a useful product line into a highly lucrative one.
Spray suppression products can be sold at any time, even to new truck owners. Making the product category a profit center simply requires an understanding of your inventory and your customer base.
Because quarter fenders are the default option for new trucks across the North American market, there is enormous sales potential for parts distributors to move single, tandem or premium quarter fenders to customers any time they add equipment to their fleet. Same goes for mud flap hangers, which are generally spec'd as the same bar hangers the industry has used for decades.
Minimizer Director of Marketing Steve Hansen says quarter fenders became OEM standard because they are preferred by many over the road (OTR) carriers. But not every new truck is destined for long-haul trucking, and manufacturers "typically don't know the vocation of [a] truck as it comes off the assembly line," Hansen says.
"Vocational trucks will have full fenders so it makes sense to install these ancillary items as an aftermarket accessory," he adds.
Hansen says Minimizer uses cohesive educational strategy to advise its distributor network to be proactive in connecting with customers when they are ordering new equipment — particularly those not already running quarter fenders on existing trucks — to have new assets retrofitted with the fenders of their choice as soon as they come off the line.
"Customers shouldn't have to buy the truck/trailer, then go to other stores to outfit the truck/trailer for their specific needs," he says. "Most customers would prefer to have the equipment delivered in ready-to-use condition and they have the option to finance the entire package at the same time."
There's also the matter of performance. Many aftermarket spray suppression lines are superior products to their OEM counterparts.
Fontaine Spray Suppression, which produces Fleetline and Hogebuilt fenders, says Fleetline's aftermarket polyethylene single, tandem and half-tandem fenders, for example, "provide more coverage around the tire" than standard factory fenders. They also are lighter in weight, corrosion and UV resistant, easier to clean and capable of withstanding small impacts without being destroyed.
"All of these benefits increase the lifecycle of the fenders, which reduces replacement costs for fleets when compared with stainless steel products," Fleetline states.
Aftermarket spray suppression products also exist to enhance OE equipment, says Ed Powderly, vice president of sales, BettsHD.
"The products we sell today in the aftermarket are the exact same products we sell into OE production. The big difference is really looking at factory installed versus options," he says. Powderly says some fleet customers choose to upgrade their spray suppression products during assembly, while others put them to use before determining what upgrades they need. In both cases, he says customers have access to the company's full line of products.
Additionally, the safety benefits of aftermarket components shouldn't go overlooked. Spray suppression is vital to roadway safety.
Hogebuilt and Fleetline's aftermarket spray suppression products protect trucks and trailers from broken rear windows, dents, rust, chipped paint and other damage caused by rocks, snow, ice, salt and tar. They also improve driver safety "through the reduction of spray during wet road conditions. That reduction improves the visibility not only for the truck driver but for the vehicles around them as well," the companies state.
Hansen agrees, and cites a recent ATA Technology & Maintenance Council (TMC) study that indicates quarter fenders actually lead to more spray off rear tires than no fenders at all. "The best solution is a full fender with a spray control 'lip,'" he says. "All of Minimizer's fenders have a lip molded into the fender that redirects road spray back to the ground."
When selling in the aftermarket, spray suppression manufacturers also note focusing on safety is a good way to convey value to a customer — particularly one using their equipment in a duty cycle that could be dangerous to other motorists or pedestrians if spray suppression efforts are poor.
"Normal OTR trucks typically have a van trailer covering the wheels, which helps to reduce some spray. Vocational trucks such as garbage trucks, concrete mixers and semi-trucks hauling low-boy trailers have a lot more need for fenders since the tire is completely exposed," Hansen says.
High-quality aftermarket spray suppression components don't look bad either and, thanks to their durability and extensive life cycles, many can be leveraged as premium features when selling a truck on the secondary market.
Powderly says BettsHD promotes its aftermarket spray suppression product line as offering improved functionality, safety protection as well as visual appearance. He says most customers appreciate the superior performance and improved aesthetic of poly or stainless steel single fenders instead of quarters and spring-loaded mud flap hangers instead of bar-type hangers though, ultimately, "these options and value truly lie in the eyes of the fleet and/or owner operator."
The teams at Hogebuilt and Fleetline agree and have positioned their spray suppression lines in the aftermarket as options for fleets and owner-operators who "want a premium product that looks good on their trucks," Hogebuilt says. "Drivers love a good looking truck."