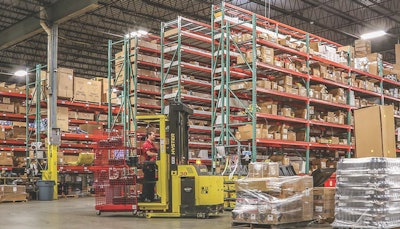 There are a number of reasons why heavy-duty truck dealers and aftermarket distributors with multiple locations should consider adding a master parts warehouse to their operations.
According to some in the industry, those benefits include, among others, bulk buying discounts, lower freight costs and improved speed of product to customers.
"Years ago the goal was to reduce inventory and keep it thin and slim. Because of interest rates being low, we've been able to grow that inventory and I think having that extra inventory has been helpful," says Andy Robblee, president, Six Robblees'.
"If interest rates flip, I may be singing a different tune. But at the moment, I think it's better to have the inventory than to not," Robblee says.
Upside of a master warehouse
One of the biggest positives of having a master warehouse is the speed of getting products to customers if those products aren't available at all, or in the quantity desired, at the store level.
"By having a centralized distribution center, the time it takes to fill an order can be cut down dramatically, anywhere between 30 to 70 percent," says Clint Carter, chief commercial officer, HDA Truck Pride (HDATP).
Carter says other advantages of a master or centralized warehouse is more simplicity working with vendors because product is being purchased for many locations but only be delivered to one. "It also simplifies your administrative work, such as payables, receiving process, etc. It also allows you take advantage of different buying opportunities," he says.
HDATP operates its own master warehouse for its distributor members. Carter says one big feature of that centralized facility is "members are not just getting one product, they are getting 30 different product groups in one shipment, so it's easy getting product, which enhances the service levels."
Did you miss our 2020 virtual Successful Dealer Award event?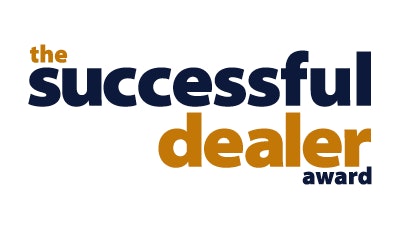 That's okay! We archived it! If you'd still like to know more about this year's finalists and what makes them tick, you can access a recording of our recent Successful Dealer Award presentation here. Sponsored by Interstate Billing, National Truck Protection, Premium 2000 and TopMark Funding.
Mark Dagen, director of parts operations, Allstate Peterbilt Group, says what the dealer's master warehouse has done for it is allow Allstate Peterbilt to buy high commodity parts. Being able to buy by the trailer loads enables the dealer to get pricing breaks, which helps get the parts to its locations and be sold at more competitive prices in its areas of responsibility.
"First and foremost, being able to manage the freight programs" is a benefit of a master warehouse, adds Robblee. "If you hit certain volumes with certain vendors, they will prepay freight.
Robblee says he would prefer deliveries to go to the branches, individually, but being on the West Coast and trying to get over two mountain ranges, freight can get expensive. "So we have to bundle those orders and then redistribute with our own internal transportation system," he says.
Another advantage of a central warehouse is employee hiring efficiency. Instead of hiring employees to handle distribution at each location, fewer personnel can be hired to run the central hub, Robblee says.
Carter says, generally speaking, there is no real downside to having a central warehouse "except you have to embrace the fact it's another division of your business that has to be managed. You have the whole dynamic of running a warehouse."
There's an investment in the inventory and the operational staff, so there's overhead there but because it's not open to the public and it's about operating effectively and efficiently, it has a lower operating cost model than a retail establishment, Carter says.
"We double handle," says Robblee about central warehousing. "Instead of product going directly to that store and being put on the shelf immediately, we're receiving product at the hub, putting it on a shelf, re-pulling it, repacking it and shipping it. Mistakes can happen or sometimes it takes a little extra time."
Dagen agrees regarding the duplication of efforts with a master warehouse versus the parts going directly to the store locations. What's more, "you have more carrying costs, more inventory on hand."
Location, location, location
After using having a smaller warehouse for a few years, Allstate Peterbilt made the decision approximately seven years ago to locate a new master warehouse in Eagan, Minn. The warehouse is 40,000 sq.-ft. and contains more than 30,000 SKUs and $7 million in inventory.
"Strategically, we did select the current location because we have the ability to reach the majority of all of our locations within a day's time," Dagen says. "Also, being in the [Minneapolis-Saint Paul] metropolitan area, we have a number of locations that may use [the warehouse] throughout the day because the stocking levels are much higher than at the local stores."
Choosing a location of a master warehouse is simple, Carter says. "You determine the location of a master warehouse by being centrally located to be able to effectively distribute to all the geographic points you need to cover, while also making sure you have staff available and people in place so you can manage it," he says.
"It can't be in the middle of No Man's Land," says Carter. "Yeah, the cost of real estate might be 25 cents a square foot but we have no oversight there. It has to be centrally located to be cost effective from a distribution model standpoint but also be centrally located to another part of your organization so it can be managed."
He adds, "That's why we have our master warehouse in St. Louis. It's literally on the other side of the corporate offices."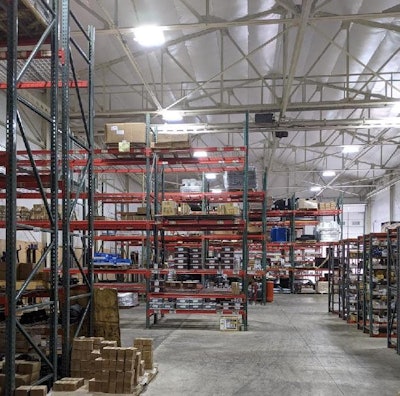 Six Robblees' has 22 Locations in Alaska, California, Idaho, Montana, Oregon, Washington, Wyoming.
In addition to a smaller warehouse attached to the Seattle branch, Six Robblees' about two years ago established a separate, standalone distribution hub in Spokane, Wash., to handle the eastern locations — Idaho, Montana and Wyoming, Robblees says.
Benefits of backstock
Another reason dealers and aftermarket distributors should consider incorporating a master warehouse into their operations is the benefits of backstock.
"It's a tremendous help because you're consolidating and aggregating the volume within a certain categories through the warehouse; you're getting a more regular product flow," Carter says.
"By aggregating the volume within a product line, we smooth out the bumps of somebody having too much and somebody having too little. The bumps don't go away but they get lessened," he says.
Dagen agrees the space to house back stock is a benefit.
"Yes, because we're able to buy high-commodity parts at a discounted rate so we always have stock on hand, which enables us to have that into the public hands in a day's time if the branch runs out of it," he says.