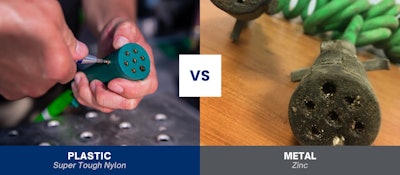 Phillips Industries has released a technical bulletin describing the performance difference between plastic and metal housing for electrical connectors and other components.
In it, Phillips addresses the unfair reputation some plastic products receive from consumers and details how in some instances, high-performance, industrial-grade plastic products can provide better results than conventional metal alternatives.
"The word plastic has never really been synonymous with the word premium," the company states. "However, this isn't always the case. Innovation and science have come a long way. While the belief that much of what we see today with products made of plastic sends a message of low quality, some items we put all our trust in are made with plastic. Police and SWAT put their trust in ballistics and riot gear. And in the aerospace industry, some plastics are preferred over metal because they weigh less and have a high resistance to chemicals and corrosion."
So why has plastic not received similar acceptance in the heavy-duty trucking industry?
Phillips offers two reasons — familiarity with metal and lack of understanding of plastics.
[RELATED: Musk hopeful to kickstart Tesla semi production next year]
"Traditionally, metal has been the plug and socket housing of choice. It was the material used for the first sockets and plugs and trusted for its strength and durability. But when exposed to the elements, metal begins to show its true colors in forms of greens, teals, and rust-colored oranges as being made of corrosive properties," the company states.
It is because of this that Phillips Industries and other leading trucking industry suppliers have become more accepting of plastics to provide superior performance for certain components.
The company states plastics are chains of like molecules linked together, and there are a voluminous number of polymers that each provide different levels of strength, durability and performance. Phillips says plastics are generally lightweight with significant degrees of strength. "Plastics can be molded, extruded, cast and blown into seemingly limitless shapes and films or foams, or even drawn into fibers for textiles. Many types of coatings, sealants, and glues are actually plastics, too," the company writes. 
The article concludes with Phillips' philosophy, which the company says is "propelled by providing the industry with innovative, solution-driven products."
Selected blends of synthetic polymers used to build Phillips electrical sockets, plugs, and noseboxes include reinforced nylon, glass-filled nylon, and super tough nylon.
The company says super tough nylon, used on plug housing and socket lids, delivers high-performance benefits ranging from impact resistance to heat resistance, making these products nearly indestructible. It adds glass-filled nylon, used on socket housings, has high rigidity, high mechanical strength, and a high degree of hardness and toughness. And reinforced nylon, the company says used on its junction boxes, is just as strong as aluminum — a material used in the standard fabrication of gladhand bodies.
Additionally, all products include UV inhibitors to protect from weathered sun damage. And the physically engineered designs of these electrical connectors take multiple facets and nuances of more than just product functionality into consideration.
[RELATED: How washing a truck can lead to corrosion]
"While Phillips products perform their essential functions, it's the added features that benefit the end-user, from the ability to withstand over-the-road abuse, to corrosion protection and reduced maintenance," the company says. 
The company concludes its technical bulletin by noting no raw material is perfect — "nothing is made with adamantium-like performance" — but through innovative and exhaustive design, plastics can achieve peak performance levels for the commercial trucking industry.
To learn more about plastics and read the entirety of Phillips Industries' technical bulletin, please CLICK HERE.