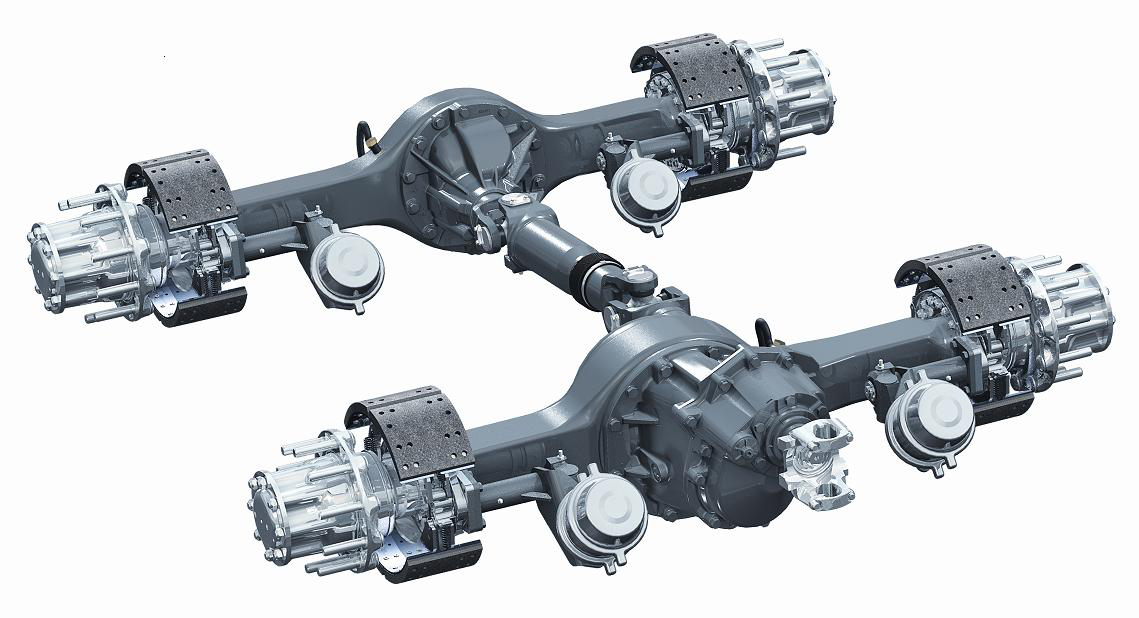 Steve Slesinksi, Dana's director of product planning, showcased a host of new heavy-duty vehicle products Sunday at TMC's Annual Meeting in Nashville, including the Spicer AdvanTEK 40 tandem axle and the SPL-350 driveshaft and SPL -250 Inter-Axle.
The AdvanTEK 40 is an all-new, 40,000 lb. tandem axle designed to lighter and stronger while offering the lowest gear ratio in the industry today suited specifically for direct-drive powertrains and overdrive powertrains. Gear ratios range from 2.26 and 2.79 for direct-drive applications and 2.93 and 3.91 for overdrive-equipped vehicles.
Slesinski says the new axle is up to 21 lbs. lighter than competitive axles due to eliminated bolt joints and specific components being combined to improve efficiency. It can be spec'd with options such as wheel differential locks, lubrication pump, breather and Dana's SelecTTRAC system for payload maximization.
Dana engineers estimate the axle can save one truck up 912 gallons of fuel and eliminate 20,000 lbs. of CO2 from the atmosphere over a five year period (based on a 1 percent efficiency gain over Dana's previous-generation tandem DS404 axle). All told, Slesinski says that works out to savings of up to $8,000 per vehicle over a five-year period.
Additionally, Dana launched a new Spicer Life Series main driveshaft and inter-axle shaft. Both the SPL -350 driveshaft and SPL -250 inter-axle are specifically designed to supply greater torque, durability and savings for severe-duty vocational applications as well as low-emission, high efficiency trucks.
Both driveshafts deliver up to 35,000 Nm of torque capacity in a smaller, lightweight package and can be spec'd with an optional service-free design.
Dana says new SPL -350 and -250 axles were designed to work hand-in-hand with the new AdvanTEK 40 axle and feature 40 percent longer bearing life as well as a long-life, high-heat seal. The new driveshafts are being offered with a 4-year, 400,000 mile warranty.
The new products will launch in the OE market in early 2014, and Dana says interest is already high. Slesinski says heavy-haul customers are showing interest in both products.
Additionally, Dana is showcasing a prototype air pressure monitoring and inflation system for tractors (not trailers) at this TMC show. The system is on display at Booth #848