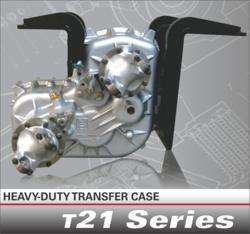 Marmon-Herrington Aftermarket Services announced Friday the availability of its T21 Series Heavy Duty Transfer Case.
This lightweight case is designed as a drop-in solution for Meritor 4208 and 4210 transfer cases installed in many Freightliner and International chassis applications. Each transfer case will be offered with a 2 year/24,000 mile warranty.
"The T21 Series is a complete upgrade over existing 4-shaft transfer case designs," Aaron Maxson, Aftermarket Business Unit Manager, says. "The all-aluminum housing offers lightweight with improved cooling characteristics, ground clearance, quiet operation and ease of installation."
Additionally, the T21 doesn't require the use of an external oil cooler, clearing up installation space issues found with hoses and other components. Each T21 transfer case is built with an internal lube pump eliminating the risk of failure resulting from oil starvation found with external lube pump designs, Maxson adds.