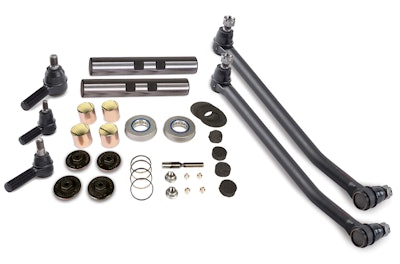 Dana Holding Corporation has introduced its Spicer Heavy Axle Steering Components All-Makes product line at the Mid-America Trucking Show in Louisville.
This comprehensive product line includes complete coverage for Spicer steer axles, including knuckles, steer arms, crosslink assemblies, beams, and whole axle assemblies.  Additionally, Dana says the line spans draglinks, tie rod ends, and king pin kits for all makes and models of vehicles in the heavy-duty market.
This newly launched product line of durable and versatile technologies delivers original-equipment (OE) quality for a variety of heavy-duty vehicle and supplier programs, totaling some 1200 SKUs, including more than 135 king pin kits, 155 draglinks, and 90 tie rod ends, the company says.
"As a world leader in front steer axle technology, we are consistently working to meet and exceed consumer demands by ensuring we offer customers complete coverage with our reliable, aftermarket products," says Bill Gryzenia, vice president and general manager of the Dana Aftermarket. "This enhancement is the newest addition to Dana's aftermarket portfolio and gives the heavy-duty marketplace more flexibility and access to genuine OE-quality parts that are capable of achieving increased product life and reduced service costs, all from one trusted supplier."
Dana says its Spicer axle king pin kits include sealed thrust bearings, which ensure durability and reduced maintenance. The kits also feature easy-to-install pre-sized bushings. Consumers have the option to purchase the bronze, composite DX (Garlock) and the latest DX 10 (Garlock) versions. The bushings reduce wear in the steer axle knuckle, even under high-stress operating conditions, and are able to withstand longer time periods between services. The all-makes king pin kits feature bronze, DX, and Nylon bushings, depending upon the application and OEM specifications, the company says.
The tie rod end technology incorporated into the all-makes product line gives customers an array of design choices, including purge valve, boot, and sliding seal styles. These designs enable the reduction of contaminants in order to extend product life.