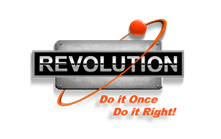 A new heavy-duty parts manufacturer has emerged and says it promises to put a new spin on the wheel-end.
Brian Beathard and Matt Stovall have partnered to create RevHD LLC; a company that manufactures wheel end products under the brand name Revolution. The two seek to revolutionize the wheel-end parts industry by changing the way people think about the hub-installed seal.
Long considered the weakest link in the chain, the Revolution Seal is anything but, the company says.
Revolution's one-piece seals are the only seals in the world designed to be installed by hand, tool or hammer.
"You can even use a block of wood." says Beathard. "Either way, Revolution guarantees a perfect fit every time and a longer lasting seal."
Revolution also offers a valuable warranty, which include a customer's brakes. If the company's premium seal, the Rev Max, fails in the first three years, or their flagship Rev 1 seal fails in the first year, Revolution will not only provide a new seal, they will also pay for the customer's next brake kit, the company says. That's how confident Revolution is in the strength of its new design.
The seal comes with a free tube of seal lubricant, a special formula designed by RevHD that allows for easier installation and helps prevent future leaks. The box itself, which is twice as strong as the competition, the company says, can be used as a template for semi-fluid grease.
"We tried to think of everything." says Stovall. "We added 50 percent more steel and constructed double bumpers to withstand the harshest impacts. The sealing lip runs on a polished surface to provide even longer life. In addition to seals we have a single locking nut, bearing sets and hubcaps – and there's more to come."
Beathard is excited about providing customers with a more secure wheel-end.
"We installed the first test seals on a logging fleet in the hills of Northern Alabama," he says. "The age of the trailers ranged from 30-40 years and we installed the seals dry, using a rubber mallet hammer. We wanted to put our products through the gamut of the most extreme conditions seen in the industry. The fleet we chose had never had a seal last more than six months.  A year and a half later, our seals are still going strong. We have had zero defects."
For more information about Revolution, visit www.revolutionseals.com or call Matt Stovall at 512-888-1986, or Brian Beathard at 615-752-8628.